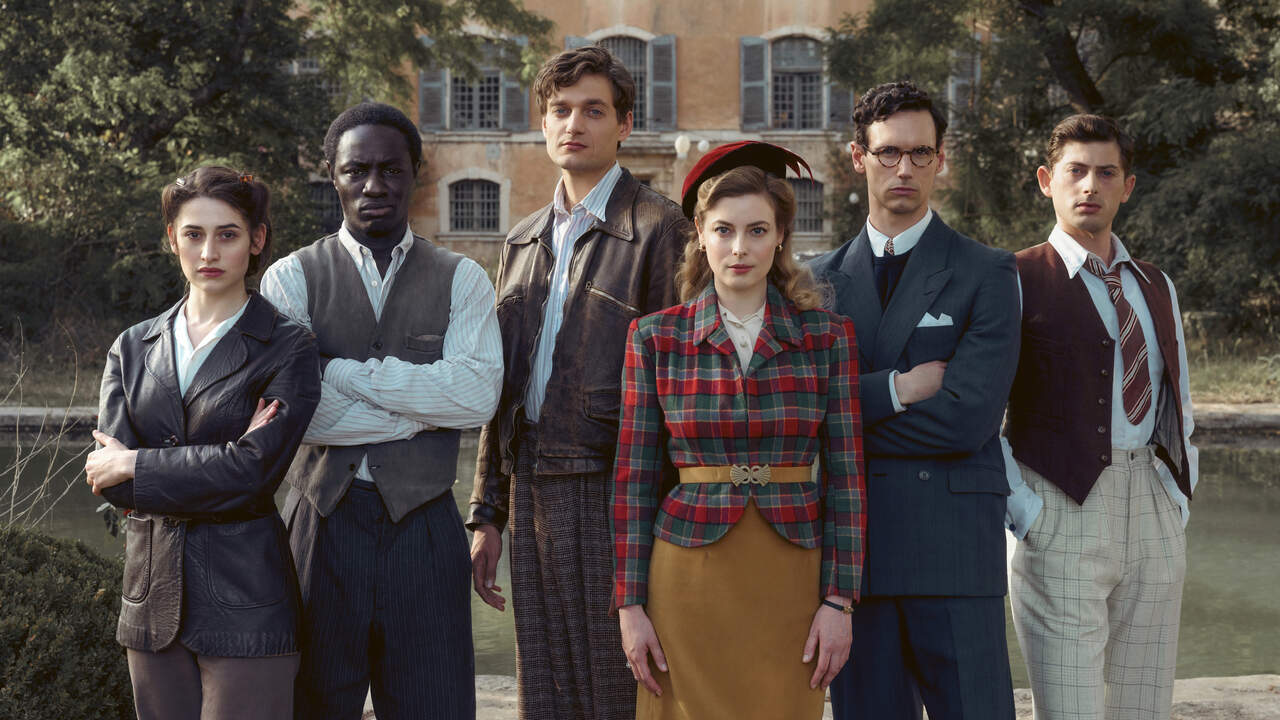 Netflix just released a new historical drama, Transatlantic, on Friday, April 7, 2023. This drama focuses on two American individuals and their allies in a rescue mission in Marseilles to help the refugees who fled Europe in 1940 during World War II.

This seven-episode drama is the work of Anna Winger, who is the writer, producer, and screenwriter behind other TV shows such as Deutschland 83, Deutschland 86, Deutschland 89, and Unorthodox.

This series explores a gang of international young heroes who intend to help blacklisted artists and "undesirables" escape France due to Nazi occupation.

Is It Based on True Story?

Transatlantic is based on The Flight Portfolio by Julie Orringer. It tells us a story about the young heroes of World War II, Mary Jayne Gold, Varian Fry, Alber Hirschman, and the Emergency Rescue Committee.

These people risked their lives, by helping more than 2000 refugees flee from France which was under Nazi occupation. At that time, many artists and artists were blacklisted by the Nazis.

Some of the people they rescued are the greatest European intellectuals and artists, like Marc Chagall, Hannah Arendt, Max Ernst, Marcel Duchamp, and also Andre Breton. These people were influential.

Although Varian Fry's rescue mission was heroic and unthinkable, Fry was largely unrecognized during his lifetime. In this drama, Fry is played by Cory Michael Smith. This dives into the story of a young former journalist and Harvard graduate who is sent to Marseilles to help with a rescue mission for the ERC.

Way before the plan has been made, Fry already made a committee in New York with the goal to aid and reduced the intellectuals who are anti-Nazi and currently trapped under the rubble of France. This movement was initially made according to Article 19 of France's armistice.

To help his goal come to a realization, he was assisted by Lisa Fittko and Hans. and finally, the gang made their movement to make an escape route to Spain. They together had to guide the refugees through the mountains of the Pyrenees, traveling on foot.

On the other side, Lisa is considered to be an action hero by the ERC. This has happened in the Transatlantic. Before the rescue, the Jewish intellectual believed that the oppressed people have to survive the war on their own.

However, the series is only inspired by true events and Orringer's novels. Not completely adapted. Many of the characters and storylines in this Netflix show are fictional.

When talking about the story of ERC and Fry, Anna Winger mentioned that it was her father who actually told the story. His father even knew some people who were involved in this spectacular journey.

"He knew Lisa Fittko in Chicago. They were part of the same organization that was protesting the Vietnam War in the 60s. Her father knew Alber Hirschman because both of them are Harvard professors in the 70s.

Later on, she mentions that her father told the story when they walked together on Varian Fry Street back in 2012 or 2013. And that's what inspired her.

In reality, although Fry's attempt was deemed illegal, the operation allowed 2,000 people to flee. In fact, it is estimated that around 20,000 refugees came into contact with its rescue center in Marseille.

Because of his actions, Fry became an enemy of his own country because they were considered to interfere with America's neutral attitude in the war. Sometimes later, Fry was awarded the highest civilian and military award of France, Croix de Chevalier de la Legion d'Honneur, which was the only confession he had.

If you want to follow the story, we highly recommend watching it on Netflix. Now, if you somehow can't find it, then maybe you should try using a VPN service. Then, if your Wi-Fi drops as soon as you change a VPN server, try to turn the service off and on again, and see if it works. This technical issue might happen at some points, but it's not that common.

Leans Towards Glossiness?

When watching something like this series, it's natural for people to expect something more historical and realistic rather than the "spices". Sure, in dramas, spices are good to keep the tension going.

However, when this goes out of control, it can actually abrupt the whole story and make the audience feel less and less relevant to watch they watch. So rather than digging into the actual story, the series shows something we wouldn't want to see instead.

For example, rather than focusing on the actual story of rescuing and volunteer missions, this series tends to touch on any other aspects that we'd feel are negligible. For example, love affairs.

This makes the story seems to be out of focus. We know that it's really hard to put a long history into seven episodes. But everything just seems not enough.

However, some people also think that the series is too long to the point that it reaches unnecessary aspects. For them, making the series into five episodes would be much better since the audience can keep engaged with the story without too much filler.

In the end, Transatlantic could be an even better series if it had stayed focused on its lane. Sometimes, only a few are better than many.