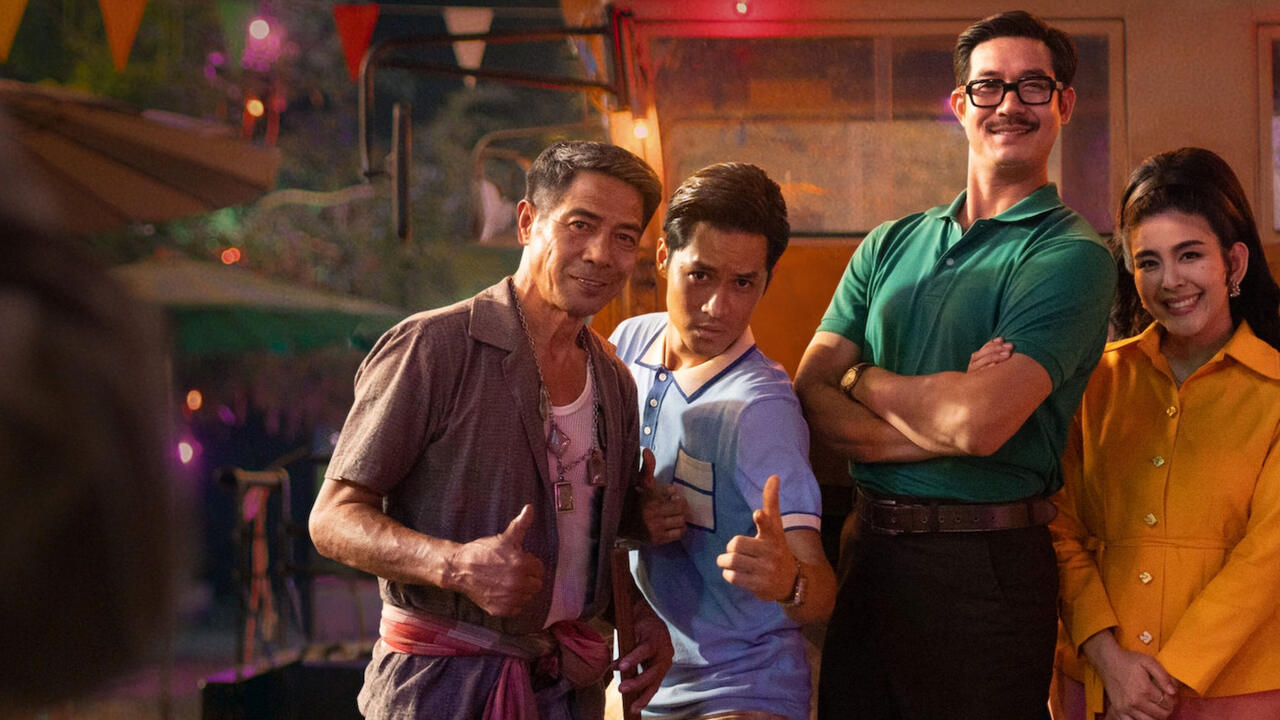 The colors in Nonzee Nimibutr's Once Upon a Star are delicate and gentle. The frames are shiny and soft as if someone extensively scrubbed the surface to remove dirt and roughness. No wonder the film's tone is mainly pleasant. Nothing is allowed to disturb or alarm the audience. Once Upon a Star is like a sugary drink that easily goes down your throat. But too much sugar can be harmful to your health, which is why the saccharine beats of this film, after a while, become too much to bear. And Once Upon a Star is the kind of film where sweetness leaks from almost everywhere. Look at the main characters - Kao (Jirayu La-ongmanee), Manit (Sukollawat Kanaros), Rueangkae (Nuengthida Sophon), and Uncle Man (Samart Payakaroon). They all have an innocent face. A stranger can pick any of these characters from a road in the middle of the night without worrying that they could be a criminal. When Rueangkae tells the other group members that she cannot disclose everything about her personal and professional experience, we - as well as those other men - don't even for a second think that her past would contain prickly details.

I don't want every movie to be harsh, gritty, and violent. But the problem arises when a movie refuses to come out of its "goodness." Every scene gets absorbed with the same tender mood, and the experience becomes monotonous. It's not a good sign for the movie when you start to wish for someone's death just so that the rhythm can undergo a change. Once Upon a Star sporadically hints at something dark and serious. But it soon changes its decision before dipping its toes into this new sensation. The movie is about dubbing artists showing their skills live to the audience members (the film runs on the screen while they read from the script), and we are initially informed that Manit and his team are going on their last tour as this business is no longer generating profit. There is another traveling cinema projection team serving as a rival. However, the biggest threat might just be the television. The world is moving towards the latest sound technology that could eliminate the need for dubbing all the lines every time in front of the audience.

But this notion doesn't give rise to any significant reaction. The movie sets itself up for an emotional impact through this thread and even romanticizes the live dubbing act. The artist and the audience taste joy, sadness, and embarrassment together. Yet, the shift towards modern technology is something that just happens. There are some other places where Once Upon a Star suggests going towards ugliness only to revert to its feel-good sentiments. A vehicle gets stuck amid gunfire, a soldier ogles Rueangkae, and Manit coughs so much that it seems his end is near. All these things, however, turn out to be nothing more than a false alarm. A love triangle is generated through Manit, Rueangkae, and Kao, and it, too, is casually discarded. There are no rough edges in Once Upon a Star, and as a result, even a famous actor's death feels muted.

That actor's name is Mitr Chaibancha, and his first name means "friend." The movie, too, is about friendship, and this is the only aspect that truly shines here. The chemistry the actors have with each other is genuinely believable. Sophon, especially, lights up a scene when she smiles. The film's innocuous quality works well when the men hide Rueangkae from their boss and when Kao states he will one day become an actor. These moments neatly fit into the wholesome atmosphere. But this goodwill becomes dull after a while, and the flaws get more and more apparent. For instance, where did Chom (Darina Boonchu) suddenly come from? What kind of relationship did she have with Manit? What happened between them? What is she doing here? Her brief appearance is utterly forgettable. I only remembered her after looking at my notes.

Once Upon a Star wants to be a "crowd pleaser," so it comes up with corny devices like the boss watching his team performing well during the climax. The rival team is presented as emotionless bad guys. Manit and his group cry over Mitr's death, but their opponents walk arrogantly as if their only motive is to make cash. But even these passionless beings start clapping when Manit bursts into tears. Such schmaltzy tricks would probably appeal to many people, and they would recommend this movie as a "love letter." But the mist of tears cannot blur the fact that Once Upon a Star is generic and meh.

Final Score- [5.5/10]
Reviewed by - Vikas Yadav
Follow @vikasonorous on Twitter
Publisher at Midgard Times