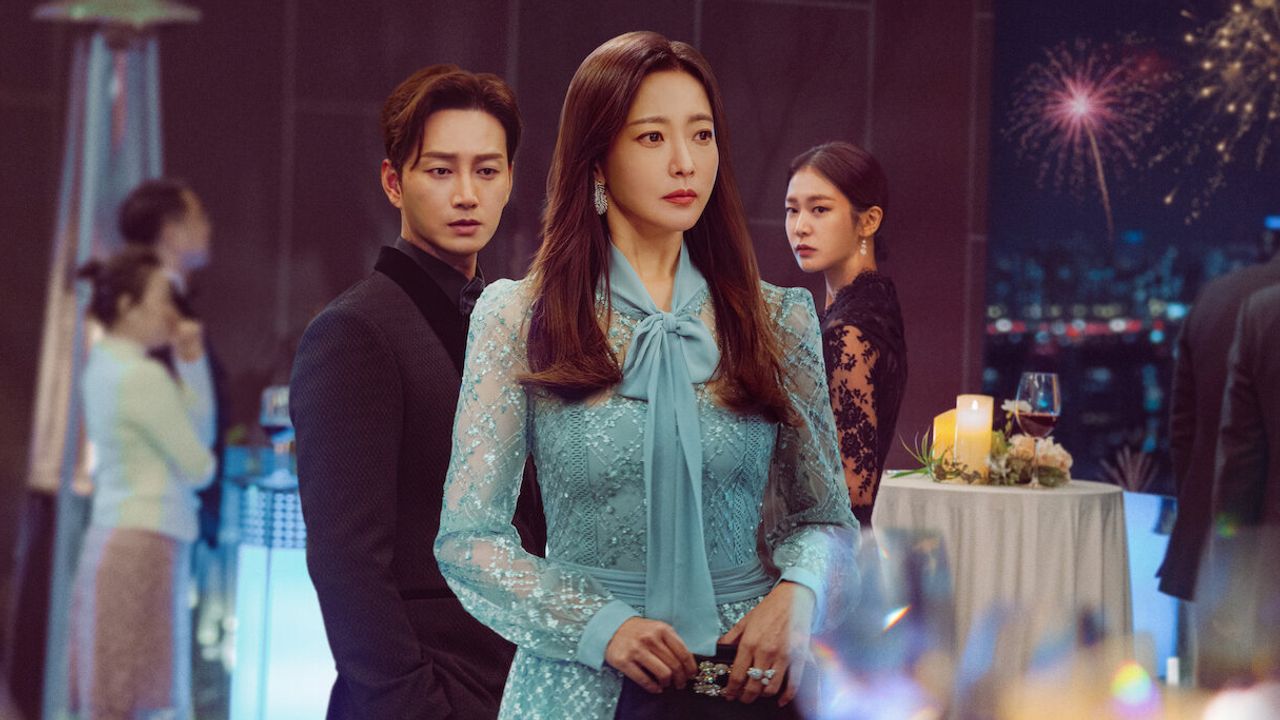 Remarriage & Desires Netflix Series focuses on both of the things included in its title: remarriage and desires, and both are shown to be closely linked. Remarriage was being done just to gain more money, and Desires were also related to political and economical profits.

Yoo-hui, the villain of this series is an interesting character. She was single-handedly able to destroy the stable marriage, life, and career of a rich man. Making several allegations of rape and embezzling money in Kang-sik's name, she played it all very well. Later, he had to commit suicide to escape the situation as he had lost everything.

Hye-Seung, his wife was left to suffer along with their daughter. Somehow Hye-Seung and Yoo-hui cross paths again. After destroying Kang-sik's life, Yoo-hui was looking for her next target. She planned whose life has to be destroyed completely and is a perfect villain in every aspect.

The owner of Rex, Ms. Choi is the lady who becomes the mediator in marriages. She makes people marry for money and not for love. There is no concept of love in a marriage in this series. A lot of drama has been included such that at a point it feels as if you're watching a daily soap. No one seems to be normal except the lead cast. Everyone else is twisted and wants something or another for themselves.

In my opinion, Remarriage & Desires is a good series to watch if you are a fan of Korean dramas and can digest a heavy plot. It has a lot of elements in it, like marrying for money and power, politics, motherly bond, and love. Initially, the plot seemed to be a bit complex, but things began to clear in the later episodes. A girl single-handedly destroyed the life of Hye-Sung, and she won't stop before her revenge is fulfilled. The plot is intense, and the actors have given mind-blowing performances.

The story of Remarriage & Desires mainly revolves around big people like the CEO of various companies. In this series, Marriage is just for financial profit, and the concept of love is lacking in those arrangements. It is done between two influential people as it is considered a business and is handled similarly. Also, the lengths to which a mother will go to save her child have been shown. Nothing is greater than a mother's love in the world, not even God's.

There are eight episodes in this series which run for approximately an hour each. Sitting for such lengths seems difficult, and it would have been better if the plot could have been executed with shorter episodes. You'll have to wait before the real story comes out and starts to unfold as this will require patience. You won't regret investing that much time in the show. The creators had several things in mind about the plot, and they didn't fail in executing it. Remarriage & Desires was also an emotional series as watching Hye-Sung's family getting destroyed made me feel like getting inside the screen and punching the villain myself. Jung Yoo Jin was fabulous as Jin Yoo-hee. Kim Hee-sun (stars as Seo Hye-Seung) also gave a wonderful performance.

Final Score – [7/10]
Reviewed by - Riya Singh
Follow @_riyasinghhh_ on Twitter