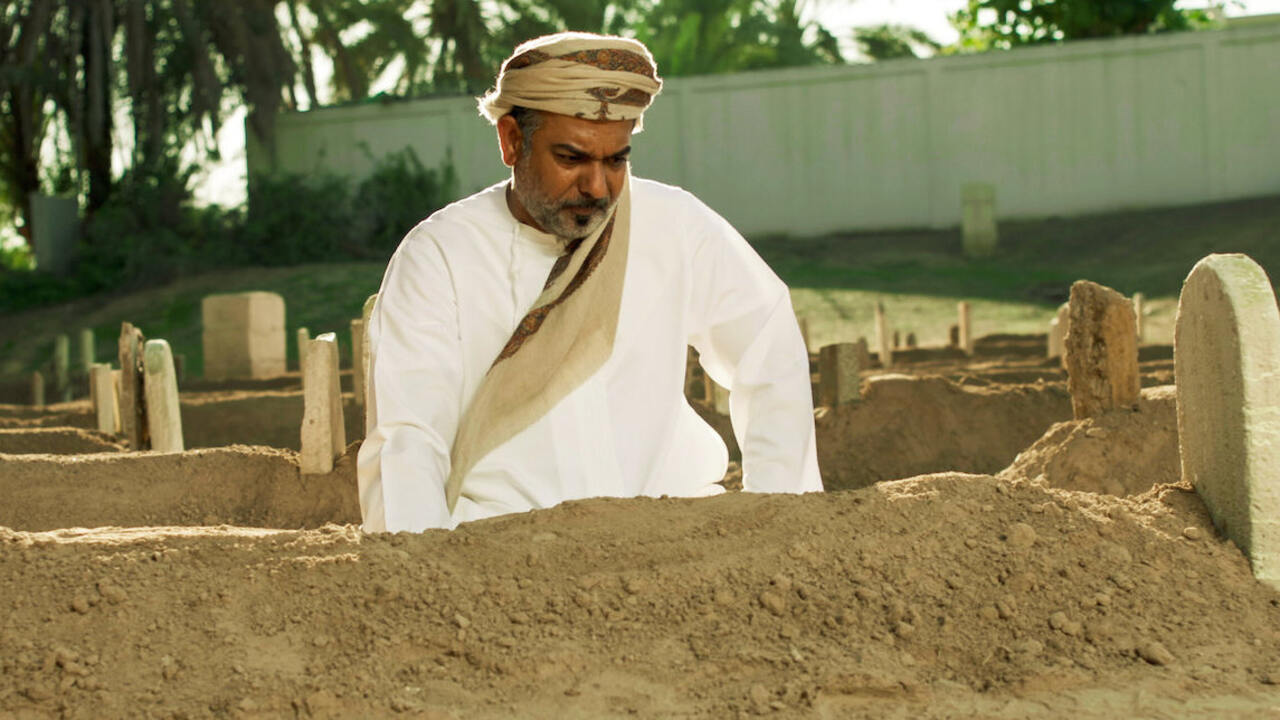 Scattered Barriers is a series with good intentions that yields disastrous results. Everything in it is glaringly preordained and peppered with mawkishness. Characters talk about mortality before their death and do so using third-rate dialogues like, "Everyone has to die one day," "our time on earth is limited," or "we come bearing pain and, in the end, lose our loved ones." Such lines can only appeal to old uncles who are ostentatiously religious and like to impress others with shallow sermons.

Scattered Barriers does not preach to us about religion (the characters, though, display an unshakable belief in God). Instead, it lectures us about rules and regulations one must follow during the CO VID pandemic. Khulood (Belquis Al Balushi) represents the "educated citizens" who believe the pandemic is real and take the necessary precautions. Her father, Naser (Ibrahim Ali Zadjali), and brother, Tarek (Raed Al Ameri), are among those people who consider CO VID to be a hoax, a conspiracy theory started by the world leaders, which is why both of them refuse to wear the mask.

Naser is a taxi driver whose work is suffering due to the lockdown. Even the people seen outdoors, rather than taking a cab, prefer using their own vehicles. And given that Naser drives without gloves and masks, he could be scaring off potential customers. In First Love, we got to see something similar as Yae Noguchi's voice-over informed us how, during the pandemic, people got too scared to use cab services. But in that series, we cared for everyone and felt a bit sad for Yae when her professional life was affected by the coronavirus.

In Scattered Barriers, it's almost impossible to root for anyone. The characters are rarely treated as flesh and blood individuals. Rather, they are converted into archetypes and mouthpieces, dispensing the thoughts of the director, Abdul Bari abu El-Kheir. The series is simple-minded. All it has to say is this: If you don't take the pandemic seriously, you will end up losing your loved ones. Scattered Barriers is essentially a melodramatic cautionary tale. It warns us and attempts to milk every last drop of tear from the audience.

The series can be separated into two parts. One side deals with dropping various CO VID-related guidelines - wearing masks, gloves, using sanitizer, etc. By putting Naser's grandmother (Amina Abdel Rasoul) and Tarek in the hospital, the show tells us that the virus can infect both young and old people. It also serves hokum in the form of that scene where Naser scolds a stranger for not correctly wearing his mask. It's just Scattered Barriers scolding those people who break CO VID protocols.

The other side of this series is concerned with the mother-son relationship, and it works a little better. However, its impact is soon diluted. It is treated as a cliché, and we go through the beats with the vitality of a wet towel. When you notice Naser's silhouette against the bright light from the window behind him, you don't feel bad for him. Instead, you think of this shot as an unoriginal (and showy) depiction of a man in mourning. The emotions are further undercut through behind-the-scenes moments we get during the end credits. It's hard to get involved in the story when the series constantly reminds us that everything you are watching is unreal.

The actors have a theatrical gesture. They act as if they know they are working in a series and performing in front of the camera. Only Zadjali stands out and looks comfortable. You can observe his character's pain and what he is going through even if he says, "I am alright," to a doctor while wearing a face mask. If only Scattered Barriers had someone as talented as him behind the camera.

Final Score- [4/10]
Reviewed by - Vikas Yadav
Follow @vikasonorous on Twitter
Publisher at Midgard Times