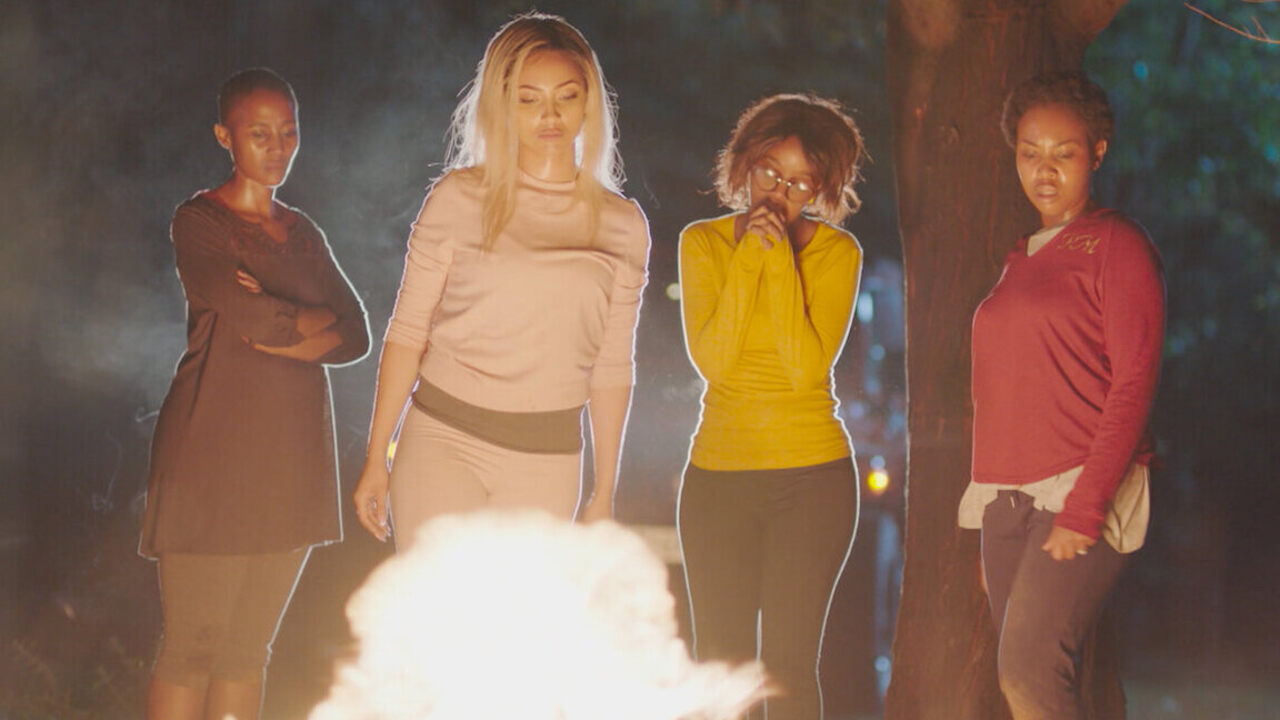 Four women with different personal troubles get together for a fun girl's weekend. 3 of them are married while one is engaged. 2 of them have children and 1 of them invites a lover on the weekend for some fun. What could go wrong? Apparently, everything is because of accidental death. 'Side Dish' is a mini tv-series directed by Mandla Ngcongwane and written by Mandla Ngcongwane.

The show is a well-directed murder mystery. Mind you, it doesn't reinvent the wheel, but it does a great job of keeping you on the edge of your seat. The series follows Sli (Jo-anne Reyneke), Joyce (Matshepo Maleme), Amanda (Refilwe Madumo), and Phiwe (Thuso Mbedu) as they get entangled in the murder of Richard (Bohang Moeko). Sli is a raunchy woman married to an old man, Joyce is a happily married mom of three, Amanda is wedded to a douchebag and is having trouble conceiving, and Phiwe is the youngest of the lot who is engaged to detective Apollo (Ntando Menzi Ncube).

These 4 friends get together for a fun weekend where Sli invites her side-piece or the titular side dish, Richard. He is a young man who gets entangled with another woman in the group. This leads to a fight between the two women and the subsequent murder/ death of Richard. This low-budget thriller is well-written and it keeps viewers on the edge of their seats wondering about who is going to get caught and how.

However, there are plenty of scenes that could have been deleted or shortened to ensure better editing and pacing. I think this show would have worked better as a tightly-paced movie. The writing is great and carries the show throughout, but it is the other technical departments that are a letdown. As for the acting, while it's not a complete disappointment, the actors could have done a better job with the script. Apart from Jo-anne Reyneke's Sli and Ntando Menzi Ncube's Apollo, no other character really shines through.

While I do understand that the low budget of the show didn't allow smart camerawork or cinematography of any kind, the absence of great visual direction in a visual medium is off-putting. Also, using montages of animals, bugs, and objects to drive home emotions and scenes was downright hilarious at best or annoying and distracting at worst. The ending of the series is satisfactory and the method adopted by the detectives to find information by slowly poking holes in the ladies' story is executed with great tension and authenticity.

Overall, 'Side Dish' is a well-executed murder mystery that will keep you hooked to the screen thanks to its brilliant writing that will make you forget about the other shortcomings of the series. Watch it if you are in the mood to watch a thriller but don't have time to invest in a long drawn-out show. At just 4 episodes, it's the perfect bite-sized entertainment parcel.

Final Score – [7/10]
Reviewed by - Ishita Chatterjee
Follow @dracone619 on Twitter
Publisher at Midgard Times