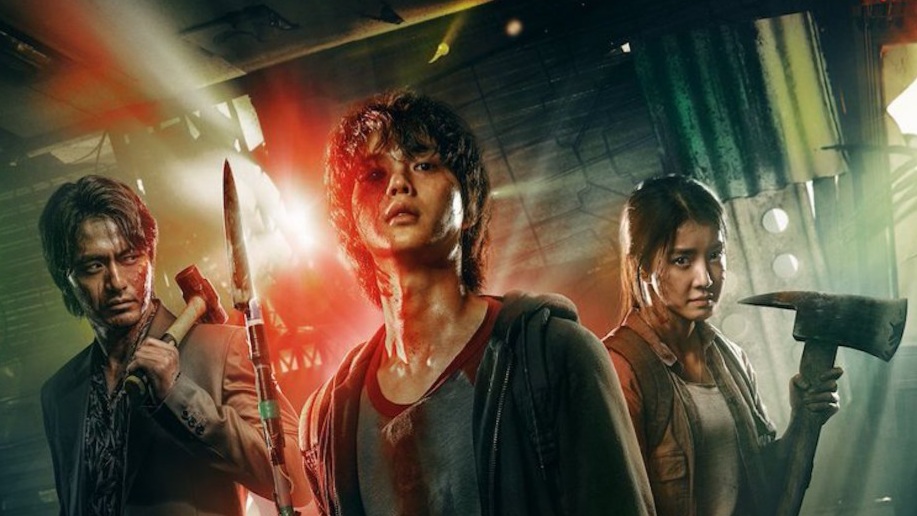 We may not have got to see a spectacular movie in 2020, but it was a year of some great TV series on Netflix, especially the International ones. Netflix has done a really good job of bringing them to us. One of the series that premiered a week before Christmas was Korean Original "Sweet Home," a live-action horror adaptation of a webtoon of the same name.

'Sweet Home' premiered on 18th December, and since it has been growing to the top of the Netflix charts in Asian countries. The series has already been at #1 in South Korea, Malaysia, and few other Asian countries, and it is currently #4 in the US and #7 in few European countries. People are drawing comparisons to another hit Asian series that recently premiered on Netflix, 'Alice in Borderland,' the Japanese action-horror and sci-fi series. However, both the series are in no way the same, as 'Sweet Home' deals with zombies-like monsters and creatures which are way too blood-thirsty than a monster could be.

'Sweet Home' currently has an audience score of 83% on Rotten Tomatoes but with only 2 critic reviews, the series doesn't have any Tomatometer score. On IMDb, the series stands on 7.4 with more than 4k user votes. This may show that the series is slightly above average or just average but its growing popularity is also improving its ratings each day and, it has a very good chance of becoming a hit series worldwide, just like 'Alice in Borderland' which is getting appreciated in the US as well.

The series is adapted from a popular webtoon of the same name, Sweet Home is a suspenseful series based on the unique premise of a world in which people turn into monsters that reflect their own individual desires. After losing his family, reclusive high school student Cha Hyeon-su moves into an old apartment complex called Green Home, where he faces these bizarre and shocking circumstances.

In this post-apocalyptic horror survival series, people are trapped in the apartments of Green Home, a single location that's expansive enough not to feel like one, which seems to house people who are running away from something or display some sort of desperation or longing. That building, the Green Home, makes for a fun setting, That helps with tension-building, knowing everyone is by definition close to everyone else, and set-piece design, as each room, corridor, and stairwell forms a piece of a larger puzzle.
Sweet Home lacks in deep characters, however, it more than makes up for with explicit violence and gore. This is not a show for the fussy either, with blood literally flooding from cracks & openings and sprayed across faces and walls. Some of these moments are even accompanied by an extreme close up shot too. If you can go in prepared for some pretty gnarling violence, then you should be absolutely fine with this one. However, you may find the monsters a bit cartoony due to bad CGI or lack of budget and the graphics are not very world-class. With so many characters there's a bit of disorientation in the first few episodes, but it settles down into a more coherent rhythm as it goes.

'Sweet Home' has ended with a climactic finale that has left the door wide open for a second season. Seeing the growing popularity of the series, it is very likely to get the season 2 renewal. It is currently streaming on Netflix in the Korean language (English subtitle available) with an English dubbed version also available. Also, Netflix has developed an online interactive game for "Sweet Home" as well, you can play it @ Netflix Sweet Home.

Suicidal Cha Hyun-Su is the main focus in the series and he's joined by the shadowy Sang-Wook, musician Ji-Su, one-legged Han Du-Sik, and crossbow-girl Park Yu-ri.

We have also brought you some in-depth comparisons of the main characters of the series with the webtoon version of them below.(Credits: 𝘪𝘺𝘢 | do-hyun best boi)

Suicidal Cha Hyun-Su's character remained unchanged. However, in the webtoon, he was supposed to k*ll himself on the same day of 'Maria in the Sky' Theatrical Film release. Maria is his fave character, and he won a ticket to watch the film's premiere. In comparison to the live version, Maria in the Sky was replaced by the remake of the Last World in which Hyun was chosen to be a tester of the game. This resulted in a lot of major changes in the plot.

Pyeon Sang-Wook a.k.a. 'Wook' is a former detective that is often mistaken as a thug. Unlike in the series, he's mysterious, a bit cranky & sometimes jokes around. He was responsible for the arrest of the criminals. He also keeps track of the monsters he killed.

Yoon Ji-su a.k.a 'Jisu' is a 20-year old aspiring musician and Hyun's love interest in the webtoon. She played a huge role in Hyun's life, helping him to slow down his monsterization process by reminding his humanity. Jisu and Hyun promised to make a song, where Hyun will write the lyrics. They ended up making a song called "Sweet Home." Jisu's trust for Hyun was unwavering, which developed into feelings for him. Since Jisu resembles Maria, this made a huge first impression on Hyun.

Park Yu-ri a.k.a. 'Yuri' is still the same. She somehow 'confessed' in the middle of an attack that she liked someone from the survivors. Hyuk once called her "Yuri the Goddess" maybe because of her young look. Unlike in the series, she survived and ended up 'dating' Wook.

Han Du-Sik's occupation in the webtoon was unknown. He once saved a kid from an accident resulting in the loss of his leg, job, and family. He often guides Hyun and he sacrificed himself to save the others. Du-sik also became a monster, in which he grew a leg.

Seo Yi-kyung is an additional main character in the series that wasn't originally in the webtoon. The major change brought by her role was her backstory with her husband who ended up in the hands of the military.

Lee Eun-Hyuk a.k.a. 'Hyuk' character is still the same. He is the same age as Hyun and also became a monster like him. In the webtoon, Hyuk and his sister are real siblings. They didn't argue that much unlike in the series. His friendship w/ Hyun gradually developed, earning each other's trust and listening to their opinions. Hyuk also showed symptoms of monsterization at the end of the webtoon. He desired to stop Hyun's monster form from attacking the rest and save them, esp. his sister.

Lee Eun-Yu a.k.a. 'Eun' is Hyuk's younger sister, who has a one-sided crush on Hyun. While distant from Hyuk, Eun cares for her brother. In the webtoon, she wasn't a ballerina but she fights off monsters by burning them using a hair spray and a lighter.