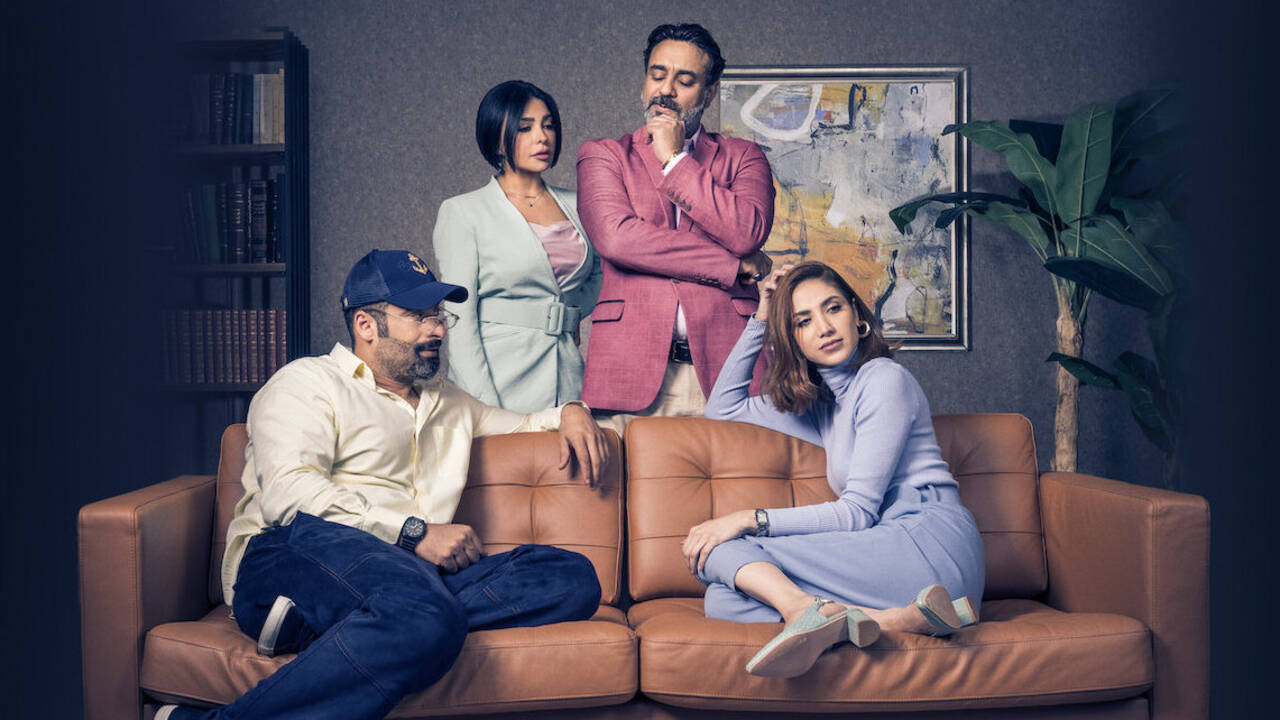 If you follow a couple long enough after their so-called happily-ever-after marriage scene, you will find their paradise disturbed and shaken. Everyone has ups and downs in life. Married people are not immune to personal problems. Only they are aware of the troubles that unfold behind their closed doors, away from the prying eyes of friends and families. That is why it's only them who can accurately assess their complications. The couple might seek advice from someone close to them. But they will be given solutions that might not necessarily apply to them. For instance, the wife's mother could tell her daughter to have a baby, as that would make the husband mature and caring. However, there is no guarantee the husband would really change after a baby.

During the prickly phase, couples tend to see their marriage as a cage. Since Rawan (Rawan Mahdi) and Zaid (Hussain AlMahdi) are one such couple, this show is titled The Cage. Zaid even says, "Marriage is a cage. Whether gold or silver or metal, it always rusts." Why does it rust, though? We have a counselor named Nasser (Khaled Ameen) who is trying to figure out the cause of this "rust" so that he can come up with a solution. And so, in director Jasem Almuhanna's show, we get Zaid and Rawan's counseling sessions where they narrate their experience to Nasser.

The first time they complain about one another, they talk about an incident involving sunny-side-up eggs. The two of them tell the same story but with modifications. In Zaid's version, he comes across as humble, and in Rawan's version, she comes across as innocent. It's played for laughs and leads us to expect a frothy or light-hearted story about a failing marriage. As a matter of fact, The Cage works when it tries to be humorous. Zaid's cheesy lines, like calling himself marriage material, generate giggles, and the scene where he asks Rawan to say something like the actress from Terminator causes amusement. Watching them argue about the fact that a girl asked Zain about hair products leads you to wish that this couple should have been planted into a comedy about a bickering couple.

Because The Cage often shifts between comedy and seriousness. And this tonal swerve jolts you out of the series and sours your viewing experience. There is a melancholic piece of music that makes The Cage soapy and undesirable. The issue with it is that the series cannot carry the weight of melodrama on its shoulders. As soon as the characters cry sentimentally, you tune out. The Instagram-y inspirational quotes further dampen the situation. Sample this: Live for yourselves, not for others. Ugh.

The Cage attempts to open a conversation. It wants to break bubbles and encourage a healthy discussion. It wants you to understand that it's okay to fall out of love with your husband, and divorce is natural. Some may not find this thought illuminating or shocking enough, but you have to understand that the series originates from a Middle East society (Kuwait), and such conversations might be too much to handle there. One can sense The Cage rattling cages as it sharply attacks the patriarchal culture. "I am a man. I can do whatever I want," says Zaid to Rawan. He doesn't allow his wife to work, hang out with other friends, or wear sleeveless clothes. Zain even gets to decide who will marry his sister. His mother, meanwhile, enthusiastically supports him in every respect. Almuhanna is fed up with patriarchy and effectively vents his frustration by weaving accusations into his story in a natural manner. The Cage "officially" blames a third party (family, friends, or secret lovers) for marital problems, but we know who's the real villain.

The show is so aware of the root problem that it resists making a villain out of Zaid. He is seen as a product of his surroundings. His backward thinking originates from the way he was nourished and the company he had while growing up. He may have many flaws, but he does love his wife. Notice when Zaid gives Rawan her favorite chocolate or when he says, "I love you and adore every ounce of you" to his partner. These moments put a warm smile on your face because his gestures sparkle with sincerity and romance.

When you move away from Zaid and Rawan and land on Nasser, The Cage starts to stumble. I didn't care about him or his life. Remove his scenes, and The Cage won't be severely affected. He breaks the fourth wall a few times, which comes across as a gimmick. It does no favors for this character, as there is no relatability established between him and the viewer. Zain's sister has kleptomania, but the show does not do anything meaningful with this point. It's just there to "open a conversation." Also, some quick, dramatic zooms feel inorganic and awkward.

The highlight of The Cage is the actors. Even when the show falters, the performances hold the structure. My favorite pick has to be Rawan Mahdi. The way she twists her hair or looks at someone paints an image of a person actively responding to her environment. She is never idle and emotes great, passionate feelings through her words and mannerisms. She has a magnetic presence that captures our complete attention. Watch The Cage for its actors or just Rawan Mahdi's performance.

Final Score – [6/10]
Reviewed by - Vikas Yadav
Follow @vikasonorous on Twitter