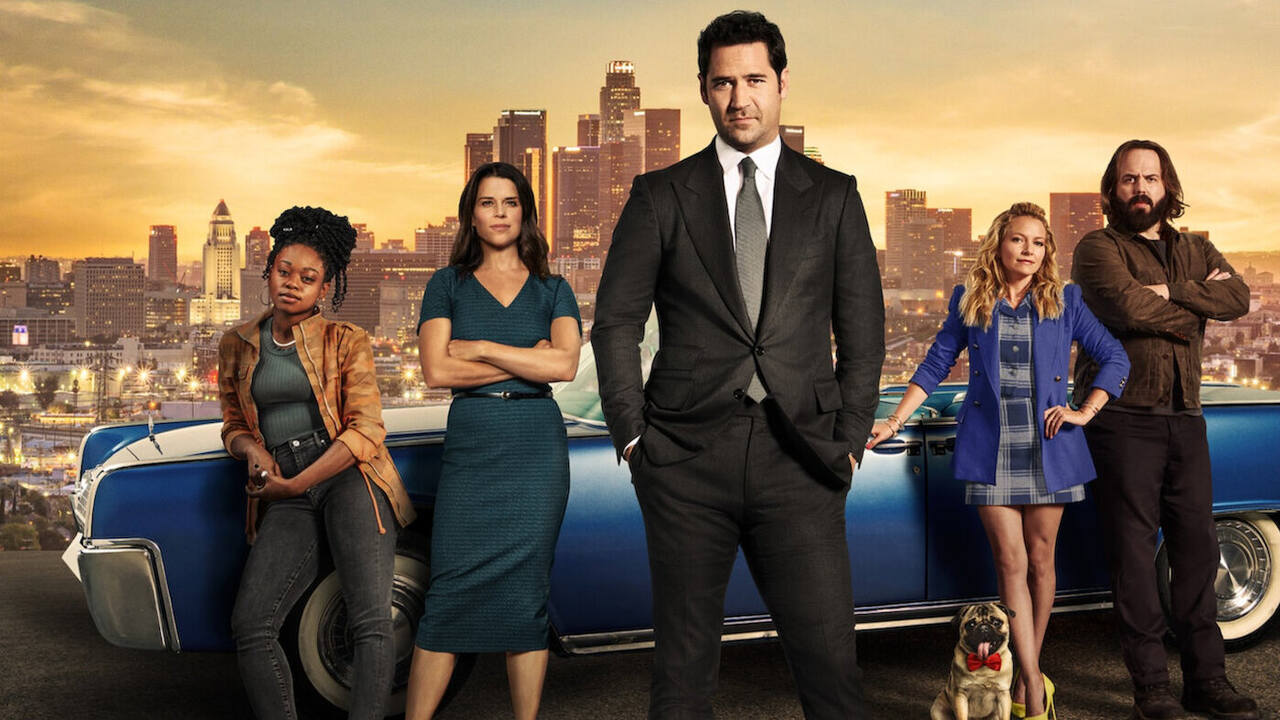 I don't have much to say about The Lincoln Lawyer Season 2 Part 2. My review of Season 2 Part 1 covered almost everything I needed to say about this series. You can copy so many lines from that article to this, like, "The Lincoln Lawyer certainly knows how to keep itself engaging" and "The scenes move smoothly, and the dialogues are delivered fluently. The show is the epitome of mechanical perfection. Its wheels run swiftly. There is always something going on in every scene." All these qualities hold true for episodes 6 to 10 of the second season. In short, Part 2 is as good as Part 1.

Unlike The Glory, The Lincoln Lawyer gives you a quick recap before continuing the story. Lisa Trammell (Lana Parrilla) is accused of murdering a businessman named Mitchell Bondurant (Clint Carmichael), and Mickey Haller (Manuel Garcia-Rulfo) tries to prove she is innocent in the courtroom. Lorna Crane (Becki Newton) and Cisco (Angus Sampson) make plans for their wedding, and Izzy (Jazz Raycole) buys a studio. When we last saw Mickey in the fifth episode, he was brutally beaten up by some men in a parking lot. Naturally, during the opening scenes of the sixth episode, the hotshot lawyer is seen resting at a hospital. The series quickly jumps forward in time, and soon, Mickey once again starts standing on his feet and drives around in his convertible. Here is a man who likes to keep himself busy.

All the actors are fine. I won't repeat myself by praising them individually. However, I cannot move forward without mentioning how charming Newton is. She remains the best thing about this series, injecting joy and energy into her scenes. Her smile lifts your spirits. You feel elated whenever she appears on the screen. All the actors in The Lincoln Lawyer deliver their dialogues with ease. You enjoy listening to them because of this smoothness. Their thoughts are well-organized, and they put forward their arguments without stuttering. This is precisely why the courtroom scenes here are exciting. The debates are invigorating, and there is so much fun to be had with the rivalry between Mickey and Andrea Freemann (Yaya DaCosta). There is a nice, tense scene in the seventh episode when Mickey eagerly waits for a text message, and you titter when Andrea walks towards a mannequin, bends its head, and hits it with a hammer.

Sure, Mickey is in almost every scene, but The Lincoln Lawyer also focuses on other characters' lives. They may not be present in every frame, but they do their tasks outside the camera's range. Lizzy buys and decorates her studio. The judge goes to her kid's school play and suffers from dental problems. And Elena (Angélica María), Mickey's mother, gives auditions. In my Season 2 Part 1 review, I wrote, "When the characters text one another in the series, you see their text history. This text message screen is usually blank in many shows - a detail that never sat well with me. The presence of older messages here indicates that the characters do their tasks even when they are not in the spotlight. That they have a life beyond the boundaries of the screen." You can say all these things about Part 2, which really shouldn't come as a surprise.

In the first season of The Lincoln Lawyer, Mickey's client eventually turns out to be the culprit. Through this reveal, the show exposed faults in the justice system and suggested that logical, convincing arguments should not be considered equivalent to the truth. Something similar occurs in the second season. This time, The Lincoln Lawyer says that if you are innocent of one crime, that doesn't mean you are not guilty of committing some other sin. Everybody has something to hide.

Final Score- [7.5/10]
Reviewed by - Vikas Yadav
Follow @vikasonorous on Twitter
Publisher at Midgard Times