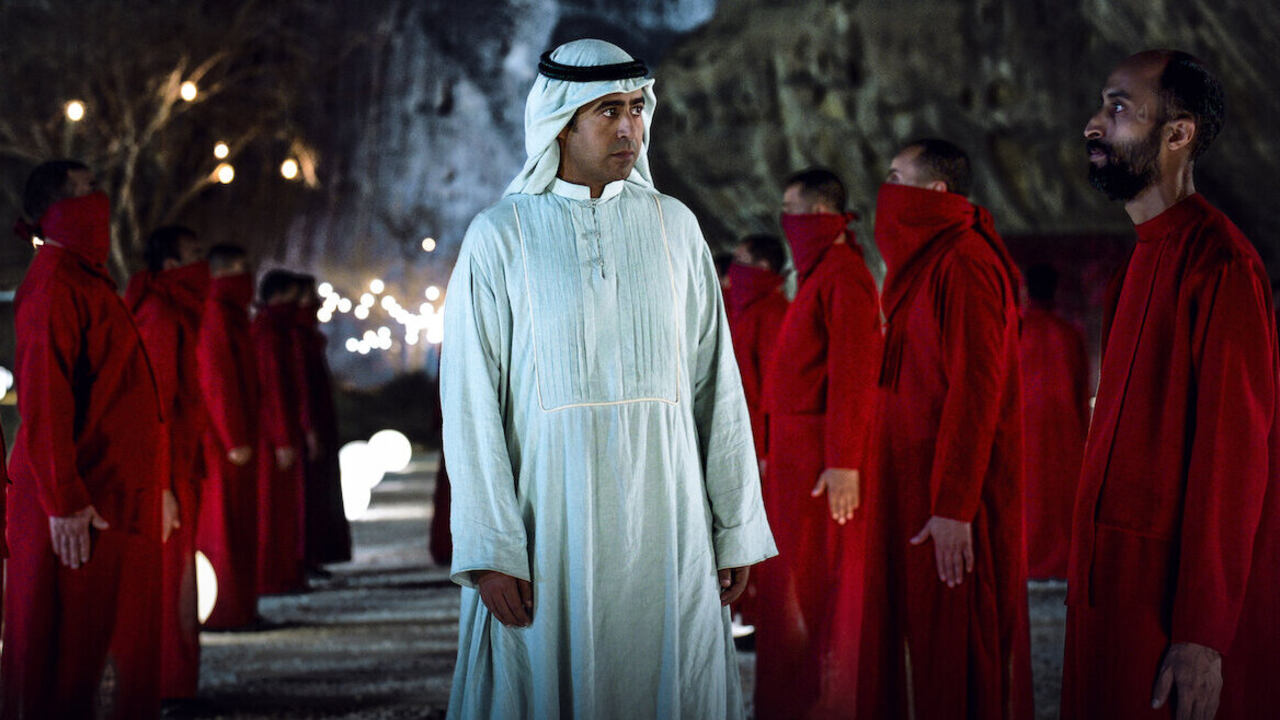 Tarak (Hussam Al Harthi) works in the IT department. He comes home late at night and doesn't give his family much time. His daughter doesn't directly speak to him, and he displays no sense of intimacy with his wife, Reem (Rahaf Ibraheem). Tarak wakes up in the middle of the night and secretly spies on a couple having a good time. He feels a bit happy and a bit envious. But why is Tarak so distant from his wife? Reem seems kind. There is no evidence of any disagreement between the husband and the wife. Is Tarak simply bored after all these years of marriage? That looks like the only possible explanation for his detachment.

Tarak listens to a YouTube video where someone explains the difference between a male and a man. Apparently, the latter is a person who takes charge of all the responsibilities. The voice mentions that a man takes risks and goes out to achieve his objective. Well, Tarak - a quiet and soft-spoken individual - dreams of being an alpha male and takes the advice of the YouTube video. What does he do? He takes a flight and goes to a desert resort to marry Salma (Nour AlKhadra), an intern from his office.

The resort is run by a matchmaker, Hessa (Reem Al Habib), who assures Tarak that the place prioritizes privacy. But we sense that something awful is afoot. Firstly, there is no mobile network. Secondly, the workers look creepy and suspicious with their red robes and stoic faces. A man says his friends loved the resort so much that they never returned. I wanted to tell him maybe his friends didn't return because this place has a minacious aura, which means something terrible could have happened to them. In such circumstances, the audience screams at the characters and warns them to run. But they never follow the instruction or do so when the chances of escape become impossible. This mistake is not repeated in The Matchmaker. At the first sign of trouble, Tarak decides to leave the resort. He even convinces another character to go with him. But his attempts are thwarted by the staff members, and he is forcefully trapped in the resort.

We are told what kind of film The Matchmaker will be from the opening scene itself. We hear a story about a woman and how she purges the sins of a man through fire. The Matchmaker then is a horror movie for and about unfaithful men. When they burn, their tendency to commit adultery, too, goes up in flames. After their death, they are reborn as meek servants who follow every command of the women.

The concept is interesting, but The Matchmaker is not good with the execution. Its brain is too simple and straightforward. There is no suspense or intrigue embedded in the story. It shows some promise through a mindfuck sequence, but that scene has an underwhelming conclusion. The movie takes the easy route by using the nightmare cliché. The ending is rushed and unsatisfying because the story is suddenly (and briefly) steered by a poorly fleshed-out character. We welcome the opposing viewpoint, but it's too little too late. The Matchmaker could have used some extra runtime to straighten things out. Alas, what you have here is an okayish movie that could have been remarkable.

Final Score- [5.5/10]
Reviewed by - Vikas Yadav
Follow @vikasonorous on Twitter
Publisher at Midgard Times