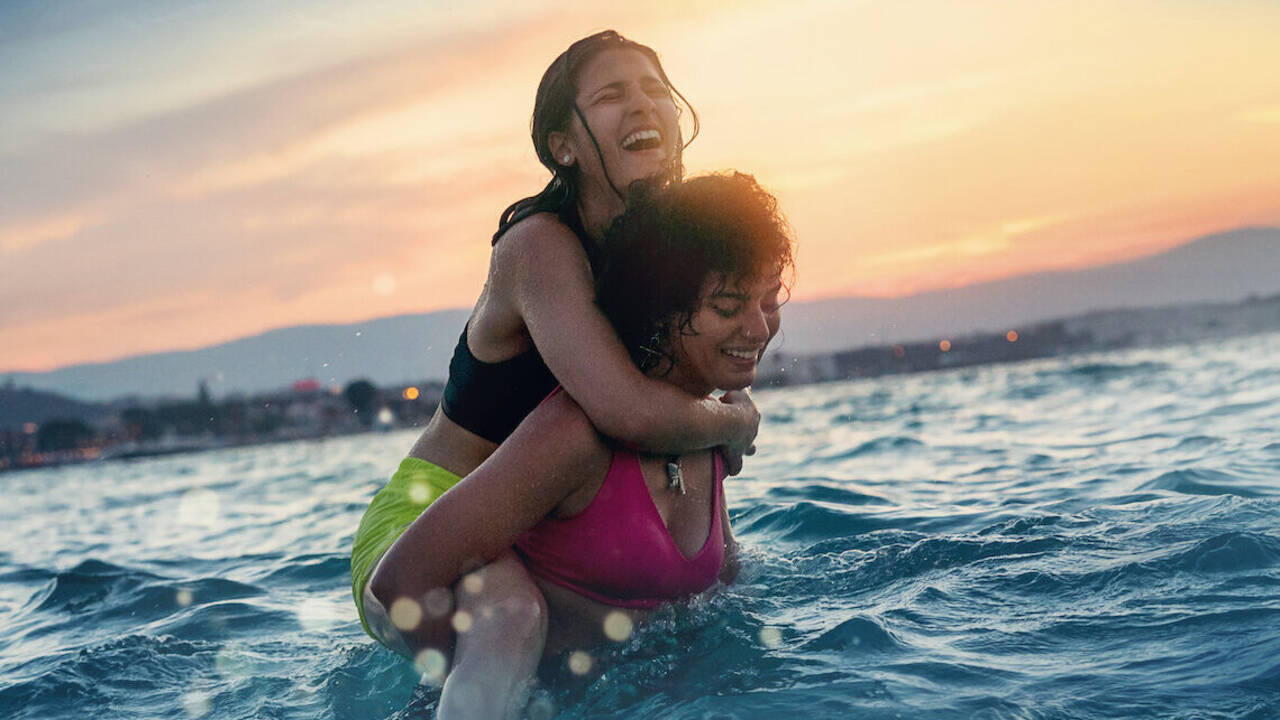 The opening scenes of Sally El Hosaini's The Swimmers create such a strong, tense mood that I didn't smile for the majority of the film. Consider the way the events unfold on the screen. During a birthday celebration, a girl watches a video about the Syrian revolution. As characters party on a rooftop, bombs go off in the distance. A friendly arm-wrestling competition is followed by the shocking news of someone's death. When Sara (Manal Issa) and her sister Yusra (Nathalie Issa) smile and take pictures, their joy is interrupted by two soldiers. All these moments indicate that in The Swimmers, happiness will face obstruction from distress. Indeed, there is so much tension here that you just wait for the characters to get engulfed by sadness. This inevitable moment arrives during a swimming competition. Just when Yusra is about to win the race, a bomb explodes, and the swimming pool is damaged. You see why I didn't smile for most of the film? The Swimmers didn't give me any reason to celebrate.

Because of the way the opening scenes are constructed, you don't relax when the characters achieve small triumphs. You are always aware that more troubles will soon make their appearance. If you had seen me while I was watching this film on Netflix, you would have noticed a boy clenching his chair and nervously waiting for the safety of the characters. The Swimmers instantly places you on Sara and Yusra's side, and you constantly root for them. It helps that the Issa sisters display a magnetic and powerful bond that overpowers some flaws in the screenplay (more on that later). This fierce relationship between the viewer and the film dramatically benefits the latter. The Swimmers consists of a series of risky episodes, and since we want Sara and Yusra to succeed, we are deeply involved in their dangerous route. The scene with the boat is so stressful and scary that I wanted it to be over quickly.

Yusra's father wants her and her sister to become professional swimmers. In one (or maybe two) of the scenes, we get a match cut of Yusra in her home, followed by her swimming in the pool. It suggests and reinforces the fact that this activity germinated from the boundaries of her home. He basically forces his ambition on his daughters, and the sisters have an interesting conversation on this topic. The problem is that their quarrel is cut short and not allowed to develop with intensity. Sara has an interest in politics. She gave up swimming and helped several refugees. But what about Yusra? Did she have any trouble adapting to her father's dream? Does she like anything else besides swimming? Did she have any other ambitions? Yes, the actors are fantastic, and thanks to them, we don't ask these questions for a long time (we are too involved in their struggles). But once they settle down in Germany and the movie breathes a little, we shift our entire focus on the characters and begin to ask these queries. It's then you realize that The Swimmers has underwritten characters.

Take Nizar (Ahmed Malek), the cousin who accompanies Sara and Yusra to Germany. All I know about him is that he likes music (he wants to be a DJ). Surely the movie could have treated him with more significance. Instead, he feels disposable. The same is true for other refugees. Of course, the film can't go into everyone's life, but it doesn't do enough for them either. I complain because when two refugees are brought back later in the story (at different points), we don't feel emotional or experience that high we get upon seeing a friendly face after a long time.

There is a training montage with the lines, "I am unstoppable. I am a Porsche with no breaks." It doesn't work well, and rather than rousing us, it inspires chuckles. Blame the song, as the lyrics heavily underline the point, and end up turning the whole scene into an embarrassment. When you listen to some girls gossiping at the Olympics, you fear the film will go into the Mean Girl Cliché. Thankfully, it steers away from a potential disaster and swims towards its strength: Sara and Yusra. Flaws and all, The Swimmers had me in its grasp and managed to victoriously reach the finish line because of the presence of the Issa sisters. If Sara and Yusra are real-life heroes, then Manal and Nathalie are reel-life champions.

Final Score- [7/10]
Reviewed by - Vikas Yadav
Follow @vikasonorous on Twitter
Publisher at Midgard Times