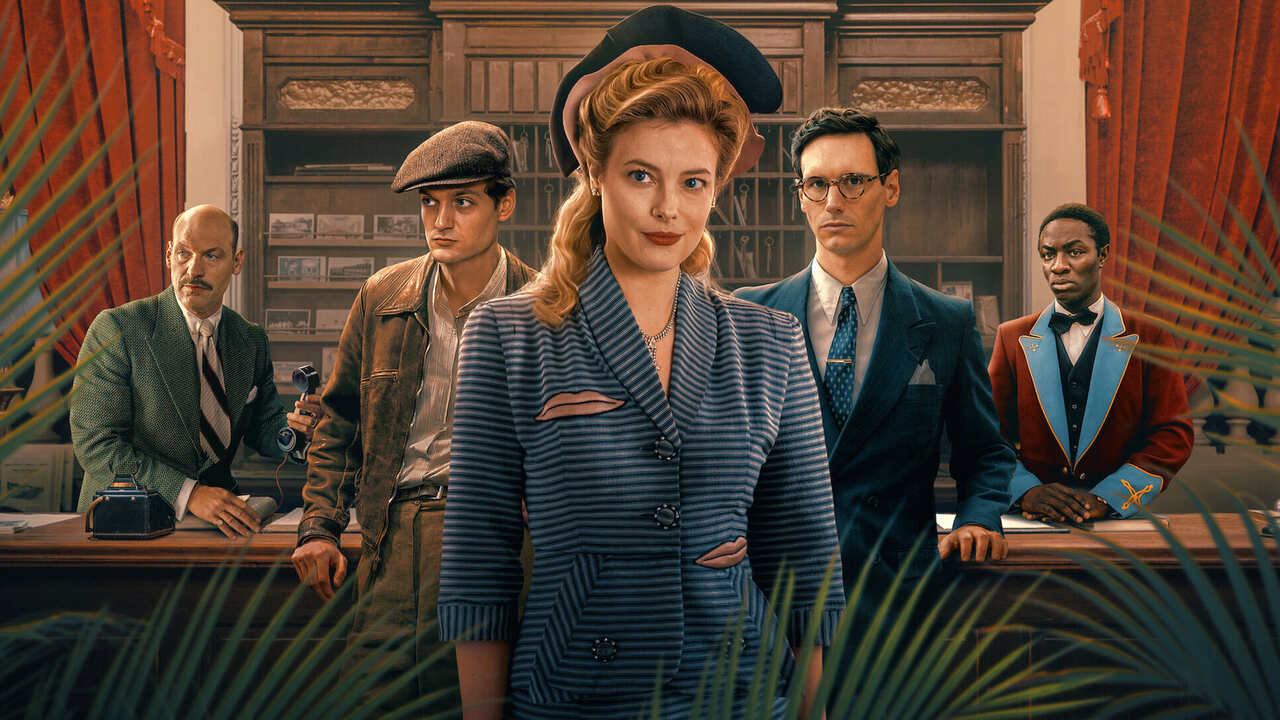 Based on Julie Orringer's novel The Flight Portfolio, Transatlantic is described like this on IMDb - "An American journalist who, during 13 months spent in France in 1940-41, managed to arrange safe passage out of France and on to the US for more than 2,000 refugees who were in danger of losing their lives." This short summary leads you to expect an exciting, suspenseful thriller. The Netflix, too, describes the show as "inspiring" and "exciting." Given how Transatlantic actually is, I would say these enthusiastic labels are "false advertising." Sure, there are elements in the series that are meant to be thrilling. However, everything is shot with such tonal monotony that nothing invigorates our bodies.

Transatlantic is set in Marseille in the 1940s. Hitler is in power, and Jews, along with other "unwanted" refugees, are desperately attempting to flee the city. The show opens in black and white, leading you to expect a grim narrative. But soon, the frames turn colorful, and Transatlantic slowly reveals its lighthearted side. The end credits come in black and white, though the images are wacky. The series, too, wants to be wacky. Hence, the scene with Walter Mehring (Jonas Nay), a writer, dancing in his hotel room amusingly. We also see a surreal birthday party thrown by an artist named Max Ernst (Alexander Fehling). These scenes want to be playful and comical, but they are just not funny. If the intention was to make us "hang out" with these characters, then the characters should have been interesting.

Their backstories are dispensed through uninteresting lines, which do nothing much in terms of character development or personal insights. Consider this question: What drives Albert (Lucas Englander) to leave his sister and risk his life for other refugees? Transatlantic offers a superficial and unconvincing answer in the form of Mary Jayne Gold (Gillian Jacobs). He gets attracted to her, and one of the reasons he goes back to Marseille after dropping off his sister is to see Mary again. Yes, I know he talks about having this zeal for helping other refugees, but what inspires him? Why is he so unselfish? I don't think Albert might have returned if he had earlier escaped through the ship. So why does he stop later? Albert is the epitome of empty and blind "movie hero" patriotism. He is handsome and well-built and thinks about others in need because he is shallow and manufactured merely for romance and heroism.

That doesn't mean other characters are impressive. None of them seem to be processing or responding to the surrounding events. They look as if they are in a hurry to fulfill the orders given to them by the directors. They rush from one place to another, and the series runs with them. The images come and go swiftly, creating an illusion that what you are watching is electrifying. At best, Transatlantic keeps us from getting bored, though it fails to cover up its emptiness. The incidents lack weight, and missions are accomplished without breaking any sweat. Risky tasks like prison break and rescue operations are made to look like child's play. The enemies are rendered incompetent. As a result, all the tension is dissipated from the story. It's established that the refugees must be sent to the US somewhere near (or after) Christmas, but there is no "race against time" aspect attached to it. The situation is mainly infused with an air of nonchalance.

There is a scene in the series where Lisa (Deleila Piasko) is coaxed out of her lair for the above-mentioned birthday party. At first, she protests against the celebration but then accepts the invitation (this change of heart, too, occurs quickly). Transatlantic is like Lisa. It initially gives us grim moments, like when Albert and his sister, Ursula (Morgane Ferru), are surrounded by the police. But then it brushes all the seriousness aside and treats itself frivolously. That's why you get that scene where Mary wears various disguises and enters a prison thrice. She is really not that unrecognizable. But since the guard is bad, he is dumb. This means even this mission is shot without tension. The atmosphere is pervaded with levity, and it produces monotony. After a while, we stop feeling anything. We stop responding to the scenes. So when characters die, we don't mourn for them. Another reason for this detachment is that we don't care for anyone. The characters don't significantly evolve over time. They remain the same from the beginning. As a result, their decisions come across as unsurprising. What we have here is a group of marionettes who simply exist to fulfill plot duties.

These puppets occasionally come to life. Observe how Mary warmly beholds Albert or the way Varian (Cory Michael Smith) and his boyfriend share a cigarette. The scene where Albert, Paul (Ralph Amoussou), and his brother (Birane Ba) smoke on a hotel's rooftop is unexpectedly soothing. And you chuckle when Mary unbuttons her dress and calls a guard "pervert." The last few scenes, showing lovers separating from each other, have some emotional heft. However, it's too little too late. Transatlantic is certainly not terrible. It's an inoffensive and harmless piece of entertainment. But it's also intensely bland and ineffectual. The performances lack depth, and the series is (largely) devoid of feelings.

Final Score- [4.5/10]
Reviewed by - Vikas Yadav
Follow @vikasonorous on Twitter
Publisher at Midgard Times