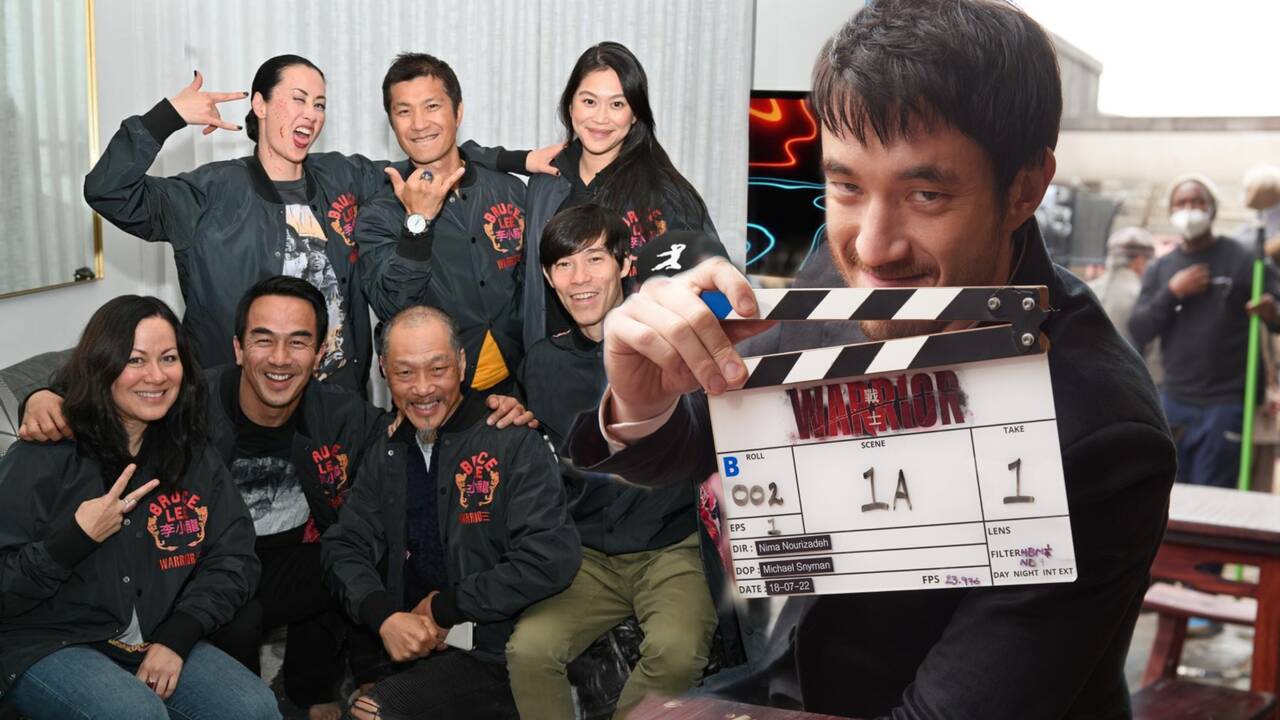 The third season of Warrior has officially wrapped up filming today in Cape Town, SA, confirmed by various cast and crew members of the series. 'Warrior' Season 3 began production on July 18th this year.

The filming took place a little more than three months, which suggests that the third season might be shorter than the previous one which was 10 episodes. Seeing the duration of filming, 'Warrior' Season 3 can be eight episodes long. Also, one of the production updates on Instagram hinted that it might be the final season and also the last time this cast and crew were together.

Director Loni Peristere posted a group photo along with a long message on Instagram, which hinted that it might be their last time together, he wrote, "That is a wrap on the @warriorhbomax season 3 finale. I feel blessed and honored to make this show with the most talented, generous, and passionate cast and crew. We had some fun on Halloween yesterday and decided to make a big picture, the second is the ad team, and the third is @bchanworld stunt team extravaganza. These are the best of the best. This is an incredible season of television which I can't wait to share. What an honor."

Similarly, each of the cast members has also posted a heartfelt message on the Season 3 wrap, which takes us to the conclusion that 'Warrior' might end with the third Season. 'Warrior' Season 3 is expected to release in the first half of 2023.

Earlier, Season 3 cast added Telly Leung as Marcel, Kevin Otto as Horace Clark, Adam Rayner as Douglas Strickland III, Nick Cordileone as Edmund Mosely, Dominique Maher as Catherine Archer, Neels Claasen as Benjamin Atwood, Sean Marco as Stewart Gumm, Jazzara Jaslyn as Eliza Pendleton, Colin Moss as Franklin Thayer, and Sizo Mahlangu as Isaac.

The returning cast includes Andrew Koji, Kieran Bew, Celine Buckens, Dean Jagger, Maria-Elena Laas, Langley Kirkwood, Olivia Cheng, Miranda Raison, Dianne Doan, Hoon Lee, Jason Tobin, Christian McKay, Dustin Nguyen, Chen Tang, Joe Taslim, Joanna Vanderham, Tom Weston-Jones, and Perry Yung.

In Warrior Season 2 finale, Mai Ling seeks an audience with Young Jun, revealing in desperation that Ah Sahm is her brother. Young Jun, stunned, confronts Ah Sahm, causing a rift between them. Young Jun sees that Ah Sahm was in an impossible circumstance and even forgives him after hearing his story, but he wonders if Ah Sahm still has feelings for his sister. Ah Sahm pays a visit to Leary's bar and challenges him to a fight. After exchanging blows, Ah Sahm defeats Leary and warns the Irish not to set foot in Chinatown.

Season 2 of the series arrived in October 2020 and became an instant hit among the audiences of Cinemax, HBO Max, and Hotstar soon after its arrival. WARRIOR was called one of the most underrated TV series currently airing by critics all over the Internet.