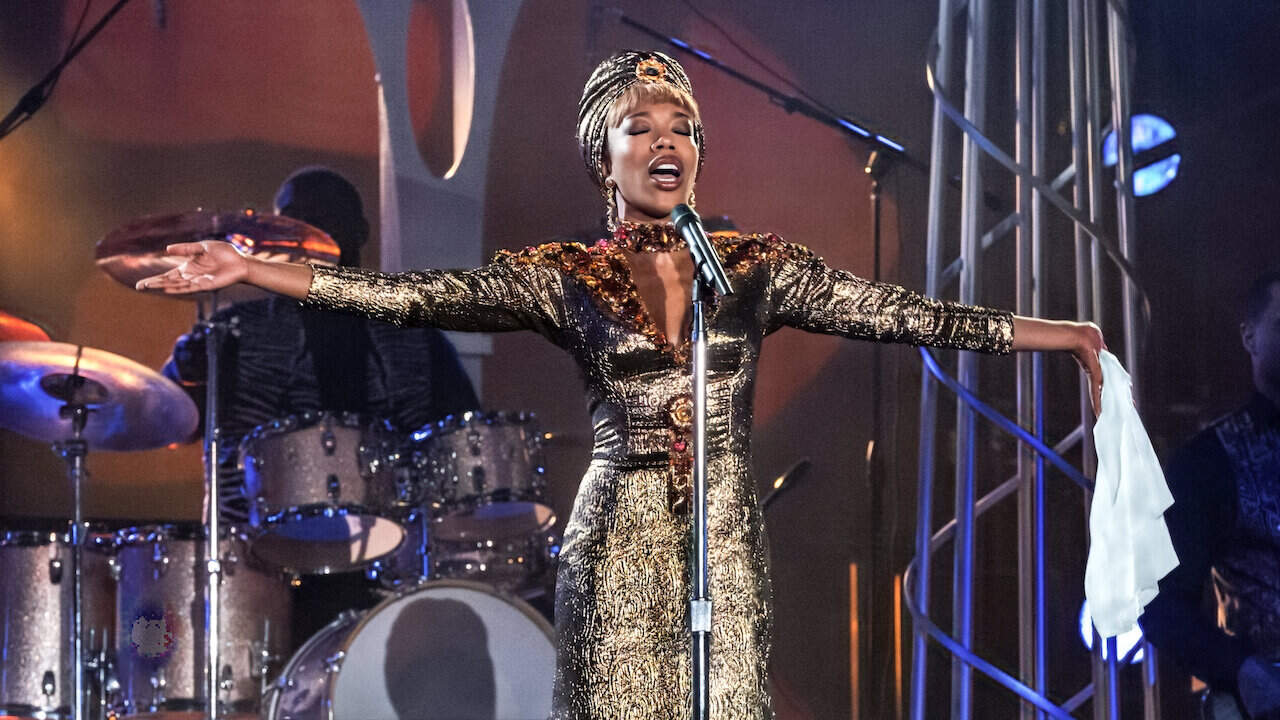 Whitney Houston: I Wanna Dance with Somebody is a 2022 film directed by Kasi Lemmons, written by Anthony McCarten & stars Naomi Ackie, Stanley Tucci, and Ashton Sanders. As the title suggests, this film is based on the life of famous R&B singer Whitney Houston. It follows her foray into music and how she ended up as one of the greatest, most loved, and most celebrated artists of all time. It has a runtime of 2 hours and 24 minutes.

The film opens with the commencing of Whitney Houston's medley at the 1994 American Music Awards and then transitions to her time in a choir in the church. Whitney introduces herself with a powerful vocal presence in that very first scene and that sets the tone for the rest of the film. The film deals with everything that Whitney Houston experienced, during her rise to fame. Her relationships and the hardships she had to endure with her family being the way they were among other things. It is certainly heartbreaking at times while being a joyous medley in other moments.

I've seen quite a few biopics in the past decade. Pretty much every celebrity that made a name for themselves has gotten a biopic divulging into their personal and public life. Whether it is Queen's biopic Bohemian Rhapsody which focused mainly on Freddie Mercury or even Elton John's biopic Rocketman. That has made it difficult for me not to notice a lot of generic trends that are followed in such biopics. This film suffers from some of those cliches and issues. You might feel like you've seen the ebbs and flows before, with a formulaic opening showing a quick rise with snappy editing. It reminded me quite a bit of Bohemian Rhapsody in that sense.

In one of the scenes, when Artista label Clive Davis visits the club that Whitney's mother, Cissy Houston sings at, she decides to let a then-teenage Whitney do the difficult opening act in order to impress Davis. A scene like this is very generic and cliche and doesn't really feel like it comes from a place of ingenuity. The film also portrays it to be that Whitney wasn't much of a songwriter which is true considering her most popular hits were written by others, however, she did co-write quite a few decent songs. It is a nitpick but it just felt strange that in the scene Davis is very reassuring of her not needing to write. There are a few liberties taken generally to make it cinematic and pleasing which is fair. Another thing I didn't like was the treatment of Houston's "I will always love you." I feel that it could've been way stronger.

I feel the acting is definitely excellent though, though sometimes Naomi Ackie doesn't always seem effortless as Whitney. She does well in emulating her mannerisms and tone from what little I've known of the starlet but still didn't make me feel like she absolutely encompassed her. The supporting cast also does equally well in displaying the required emotional value in sequences. Stanley Tucci is especially likable as Clive who uplifts Houston initially by signing her with Arista Label. Other mentions would be Tamara Tunie who played Cissy Houston, Whitney's doting mother, and Ashton Sanders as Bobby Brown. The acting also does feel loud in certain sequences, lacking subtlety, but I expected that as it is technically a generic biopic.

Despite the flaws that the film inhibits, it is still easy to recommend just for the story. It touches upon themes of family, love, fame, passion, and faith. Showcasing the highs and lows that she experienced during her life. Despite some weirdly paced sequences and editing choices, it is still worth a watch.

Final Score – [8/10]
Reviewed by - Aayush Chaurasia
Follow @AayushChaur44 on Twitter
Publisher at Midgard Times