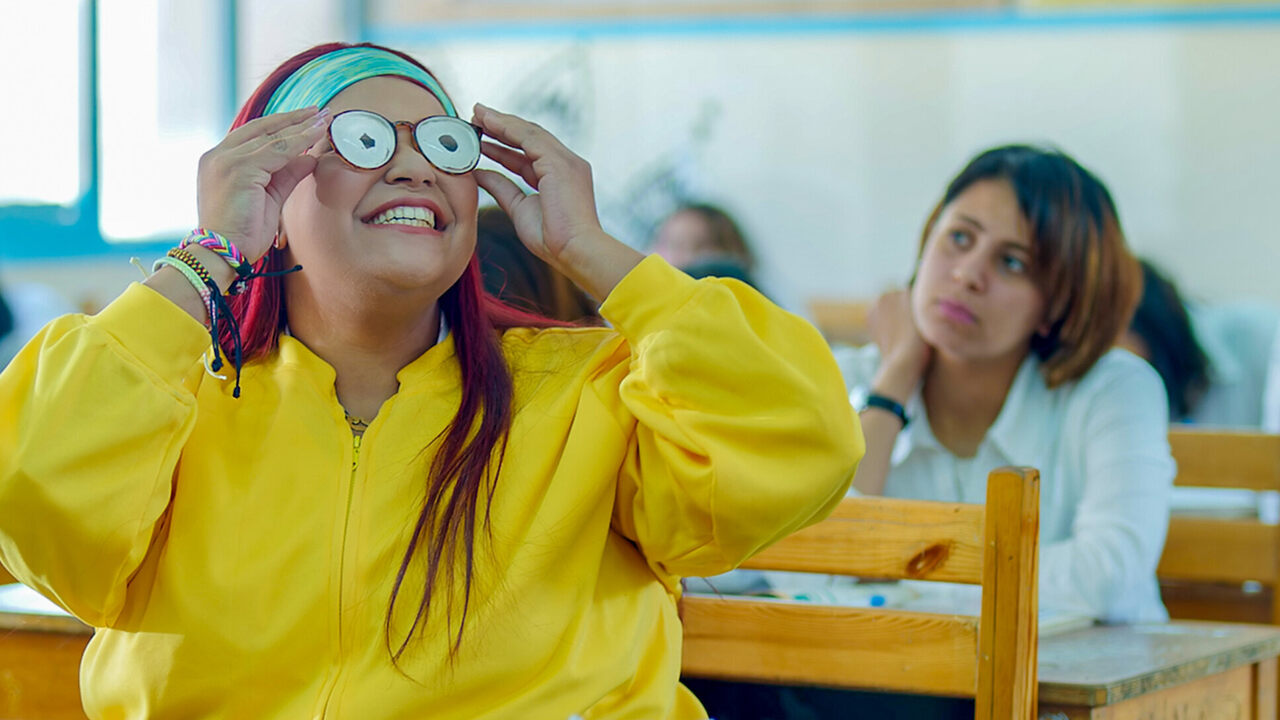 A chubby character like Wizzo (Dina Mohsen) is generally not treated very kindly in the movies. She becomes the source of cheap fat jokes that are meant to be funny but feel rather irritating. In Ali Ragab's Wizzo School (written by Mostafa Elsobky), the lame Fat Character is given self-esteem. Sure, the movie has its share of body-shaming jokes, but Wizzo is so assertive she either laughs at these poor remarks or crushes them with her actions. She is filled with joy, so much so that she dances her way through this movie. There is rarely a shot here where Wizzo moves in a straight line. She is mainly seen belly dancing. She has such a strong command over the other characters that, on her orders, the women around her start ululating. Her presence imbues a certain level of excitement in an otherwise tedious film.

Wizzo School has some potential, but it's all underutilized by substandard writing and direction. Wizzo's dad, Fatthi (Samy Maghawry), lifts weights to impress the neighbor's wife. He also flirts with the school principal (Ola Ramy). His coquettish skills, however, are devoid of charm and wittiness. Ragab doesn't get the comic timings right. There is no tone or rhythm in his vision. There are moments when it feels like there is no logical connection between the scenes. The shift is too haphazard and jarring. For instance, we watch Wizzo arguing with a teacher, and then the movie immediately cuts to a song and dance sequence. Similarly, we get an Elevated Saif routine, which (shoddily) gives way to Wizzo and her family planning something. Wizzo School is shapeless - an unfunny mess.

Whatever pleasures the film has they come from Wizzo herself. Here is a woman who saves her crush (Omar Khorshed) from a robbery. In any other movie, her romantic interest would have used her to get to her best friend, or would not have found her attractive. But here, the boy is captivated by Wizzo. He even asks for her hand in marriage. However, he puts forward a condition: She would have to first graduate from high school, and only then the wedding will occur. Wizzo has failed seven times and has become comfortable in the classroom. This comfort stops her from moving on from her school.

So you can say that Wizzo School is about Wizzo's graduation. It's also about her revenge on a teacher who charges a high fee for tuition. His logic: Be rich if you want to be educated. But these two threads are not competently executed. The vengeance and graduation thing are just plainly ticked off. There is no sense of victory in these moments. The camera simply records the events. The movie mostly consists of comic scenes that go nowhere, like the one involving childbirth and a woman's story regarding Brad Pitt, Titanic, and Leonardo DiCaprio. The film ultimately wastes our time and the talents of its actors. It's best to not get admission to this school.

Final Score- [3.5/10]
Reviewed by - Vikas Yadav
Follow @vikasonorous on Twitter
Publisher at Midgard Times