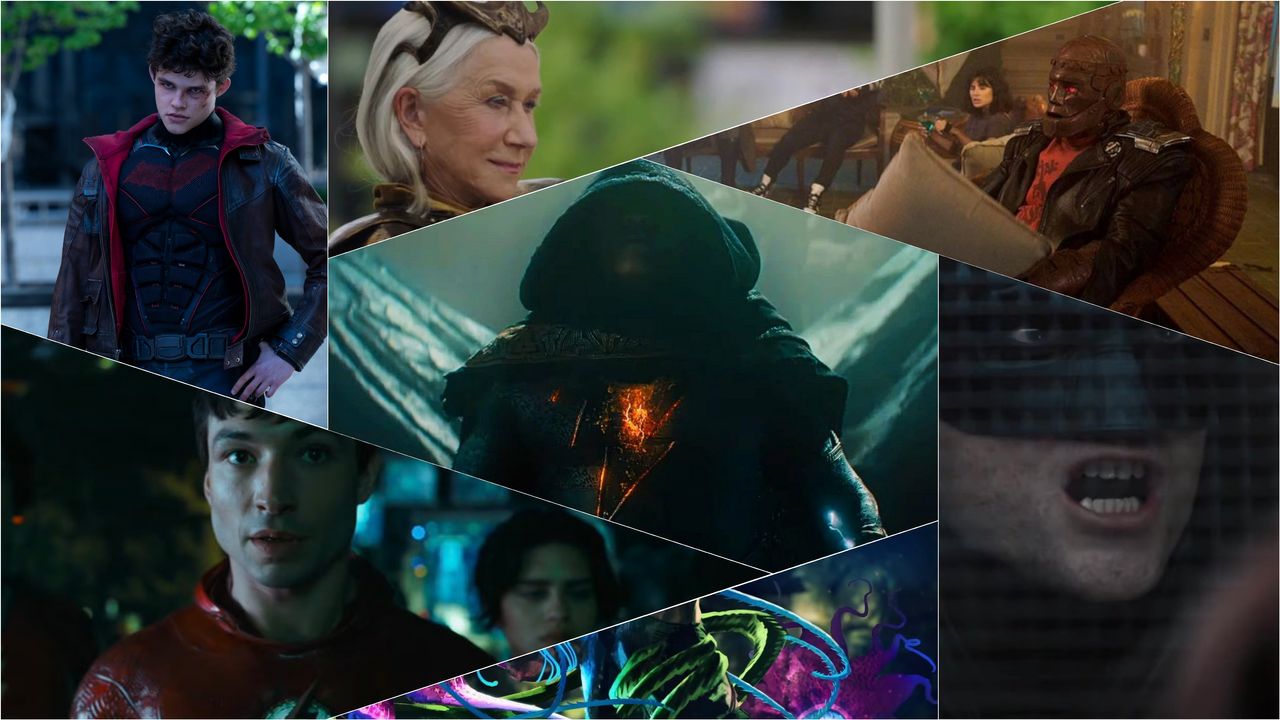 The second DC annual event of DC FanDome brought a lot of announcements along with fresh looks at the upcoming and returning shows and movies. While The Batman trailer became the showstopper and was the most talked-about part of the event, there were also few other significant announcements including the first look at NAOMI, BTS looks from Aquaman 2, and Shazam 2, Young Justice: Phantoms first look, and much more.

Below is the recap of the big announcements, along with all the clips revealed during DC FanDome 2021.

PEACEMAKER First Teaser Trailer and Premiere Date Announcement: You can check the full announcement along with the teaser trailer @ 'Peacemaker' First Teaser Trailer Reveals Release Date at HBO Max.

BLACK ADAM First Look: You can read our analysis and watch the clip @ Dwayne Johnson Reveals 'Black Adam' First Look at DC Fandome 2021

THE BATMAN Trailer: You can watch The Batman Trailer and get more details about it @ 'The Batman' Latest Trailer Reveals A Violent & Brutal Dark Knight

DOOM PATROL Season 4 Announcement and Mid- Season Trailer:
HBO Max confirmed that the Max Original series DOOM PATROL will return for a fourth season and released a mid-season trailer in anticipation of the remaining episodes of season three, which debut weekly on the service every Thursday until NOVEMBER 11.

TITANS Season 4 Announcement and First Look at Season 3 Finale:
HBO Max confirmed that the Max Original series TITANS will be back for a fourth season and revealed a first look at the season three finale ahead of its premiere this Thursday, October 21.

PENNYWORTH Becomes HBO Max Original With A New Third Season In 2022:
HBO Max announced today at DC FanDome that season three of the hit DC series PENNYWORTH, from Warner Bros. Television, will debut in 2022 as a Max Original. The first two seasons will also be available on the platform in early 2022.

The CW Series NAOMI First Look Clip:
From Oscar® nominee/Emmy® winner Ava DuVernay and Jill Blankenship ("Arrow"), and starring Kaci Walfall in the title role, NAOMI follows the journey of a cool, confident, comic book-loving teenager as she pursues her hidden destiny. As Naomi journeys to the heights of the Multiverse in search of answers, what she discovers will challenge everything we believe about our heroes. Coming to The CW in 2022.

BATWOMAN Season 3 Official Trailer:
Holy turn of events! In this fun, retro, season three trailer, BATWOMAN's Ryan Wilder(series star Javicia Leslie) and sometimes psycho-villain Alice (series star Rachel Skarsten) find themselves unlikely "partners in crime" in a way that's "totally bat-chick crazy!" Bat fans, get ready for "Batwoman & Alice"! BATWOMAN airs Wednesdays at 9/8c on The CW.

Young Justice: Phantoms (Young Justice Season 4) First Look:
Today at DC FanDome Young Justice fans were finally given their first look at the highly-anticipated fourth season, Young Justice: Phantoms.

In true Young Justice fashion, the trailer was action-packed and full of surprises - with the biggest surprise coming in the end when it was announced that the first two episodes of Young Justice: Phantoms are now streaming on HBO Max.

Following this surprise drop, new episodes will be available every Thursday (beginning 10/21), streaming exclusively on HBO Max.

DC's Legends of Tomorrow - 100 Episodes in 100 Seconds:
Talk about time traveling in style! For DC FanDome 2021, DC's LEGENDS OF TOMORROW gave fans a mind-blowing overview of the series so far, covering 100 "out there" episodes in 100 legendary seconds! From Rip Hunter's first welcome on the Waverider to a first look at the show's 100th episode, the Legends — past, present and future — have been saving the timeline by mucking up history…one episode at a time! DC's LEGENDS OF TOMORROW airs Wednesdays at 8/7c on The CW.

The Flash (2022) Sneak Peek:

Shazam! Fury of the Gods BTS Clip:

Aquaman and the Lost Kingdom BTS Clip: