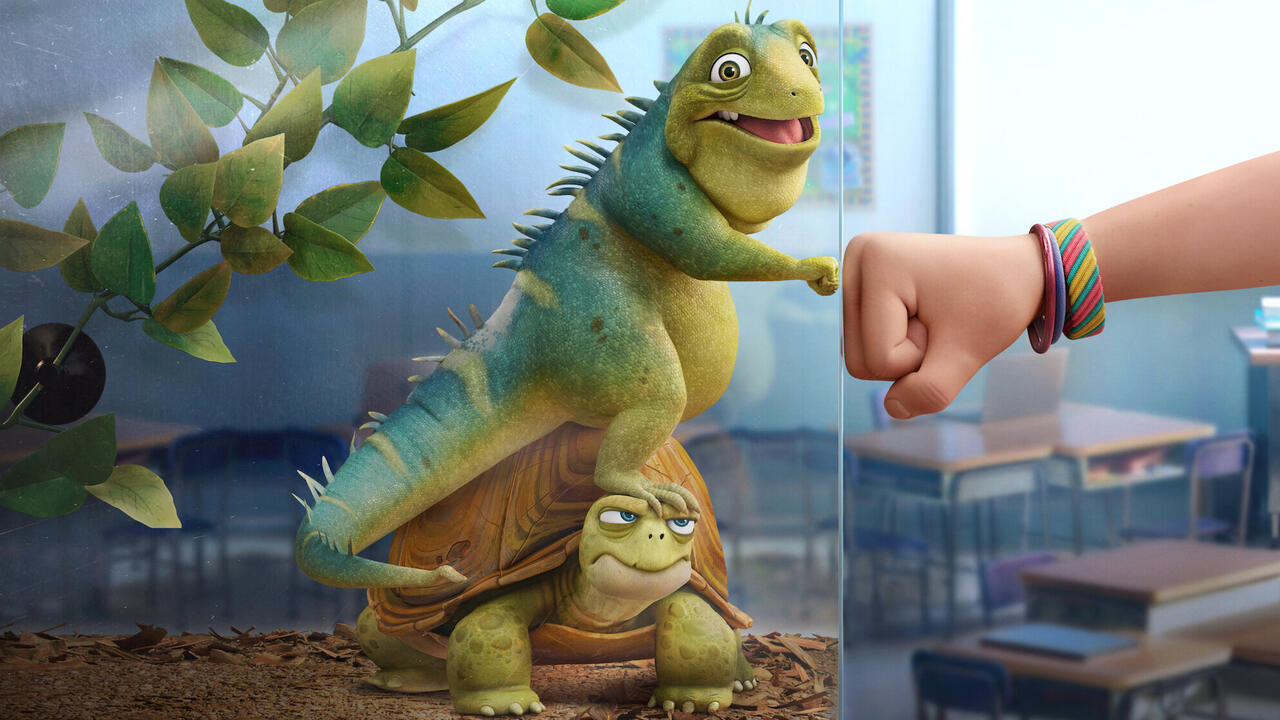 The most surprising thing about Leo is that it's directed by three people - Robert Marianetti, Robert Smigel, and David Wachtenheim. What's more, it's also written by three people - Smigel, Adam Sandler, and Paul Sado. You can't help but wonder, "What's up with all these trios?" Does it have something to do with the fact that the title consists of three letters? Is this some sort of superstitious belief? Because nothing about Leo suggests that it required three individuals to helm it. The writing is fairly satisfactory, and the direction is all right. People who like to give hot takes on parenting online (they complain about how many parents do a shit job at parenting) should be pleased by this animated film.

Leo says that children are highly impressionable, so adults should be very careful around them. The grown-ups' behavior molds their kids' psychological reactions. If a girl is constantly hugging everyone, chances are her parents are going through a divorce (she is seeking love in the arms of others). If a girl is looking for a perfect life and hosts exclusive parties, that's because she wants to be as great as her family members. She blindly upholds the image of perfection and takes cues from her father, who likes to brag about himself. The innocent mind of a child fails to fully understand physical changes. He might easily get embarrassed by a hair on his back, so much so that he can hesitate to clear his doubts from his parents. And if you don't teach your kids some verbal manners, they will bore everyone, including movie characters, with their never-ending chatter.

Leo's logic is that parents are humans, too, and humans have flaws, no matter how old they are. This is why a lizard - a non-human - named Leo (Sandler) offers meaningful, mature advice to fifth-graders. As a result, he becomes a hero in the eyes of the students. Each student thinks Leo only talks to him/her because they are special. So on one side, there is this lizard who is showered with love, and on the other, there is a turtle named Squirtle (Bill Burr), Leo's long-time friend, who no student even considers taking home. Expectedly, Squirtle becomes jealous and sabotages Leo's relationship with the students when he gets the chance.

The movie starts falling apart when you ask yourself, "What makes Leo wiser than Squirtle?" Both animals have lived side-by-side in one cage (and classroom) for many years. They have seen, learned, and absorbed the same sights and sounds. So why do they have perspectives so different from each other? Why are their insights so dissimilar? Why is Leo able to give out sensible advice while Squirtle ineptly talks about childbirth? Going by Leo's expressions, it seems as if he would have provided an accurate answer to the question, "How are (human) babies born?" Leo's voice adopts a sagacious tone, and his face becomes gentle when he teaches life lessons. Asa Butterfield's Otis did something similar in the fourth season of Sex Education. The results were terribly irksome.

Perhaps the movie, by making a 74-year-old Leo wise, is validating the "with age comes wisdom" notion. There is something wrong with you if you believe in these words. A 19-year-old boy can be more perceptive than a 40-year-old man, who might have lived in a cave or a gilded, privileged cage. The film is somewhat silly, even with three writers. Its one saving grace is that it has some good jokes. Look out for a drone that eats ice cream after a break-up. A girl gives a mobile to Leo and tells him to call her. I don't know how many people will learn lessons from Leo, but they will surely laugh at all the jokes.

Final Score- [6.5/10]
Reviewed by - Vikas Yadav
Follow @vikasonorous on Twitter
Publisher at Midgard Times