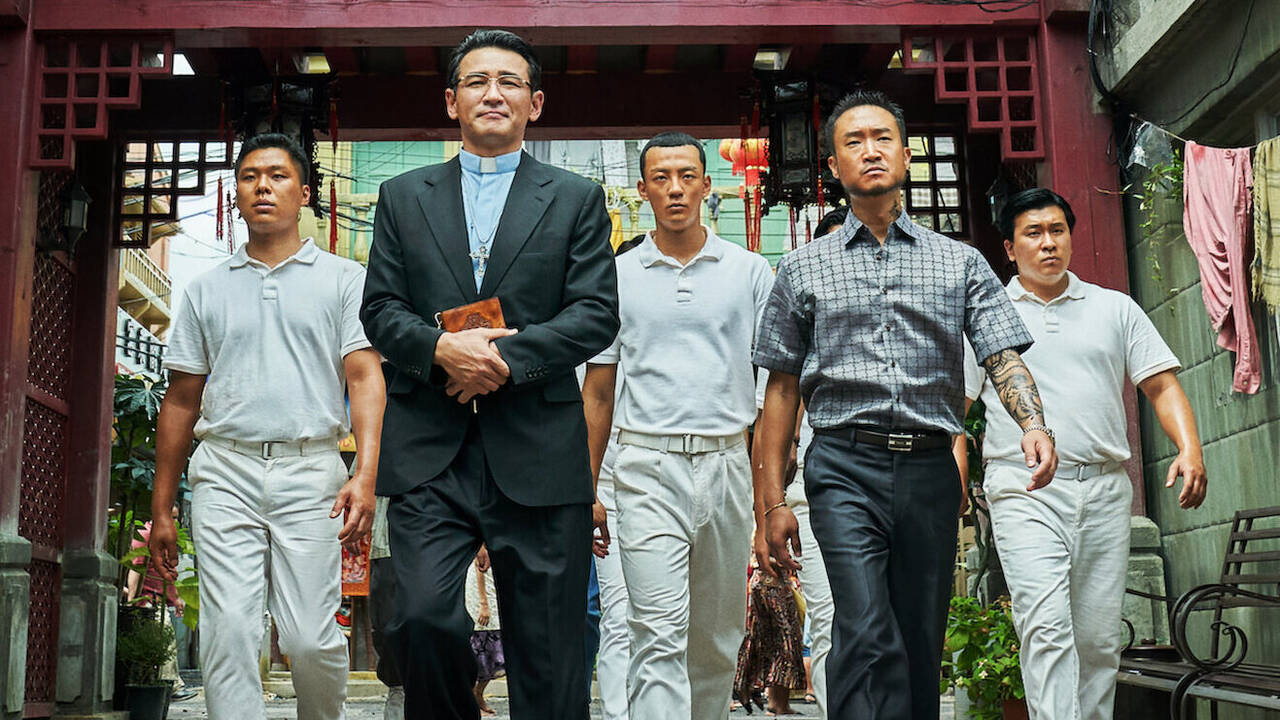 Kang Ingu (Ha Jung-woo) is tired of not earning enough money for his family. Although his wife doesn't mind their living circumstances, Kang thinks he should be earning more. That's why he doesn't hesitate to accept his friend's plan that would make them reach millions. All they need to do is go to a place called Suriname (not many people are aware of its existence) and import skates from there to Korea. Upon reaching the location, they are confronted by the local army and some gangsters from Chinatown. A pastor named Jeon (Hwang Jung-min) saves Kang's business from the latter and shows no interest in receiving a donation for the church. But the situation worsens when cocaine is found in a shipment sent by Kang, leading to his arrest by the police officers.

In jail, Kang meets an NIA officer, Choi Chang Ho (Park Hae-soo), who offers him a deal to bust Pastor Jeon. Apparently, the father runs a drug business apart from screaming, "Hallelujah!" Needless to say, Kang accepts the deal and infiltrates Jeon's gang by earning the pastor's trust. If you have seen crime movies, you can tell everything that would occur in Narco-Saints from here onwards. This "inspired by a true story" show lacks strong twists and memorable characters.

The creators don't have big ambitions. They are content with spinning the same old wheel, which they frankly do with some competence. Love it or hate it, but you cannot label Narco-Saints as lazy. A shootout at the Brazilian border is filmed with technical expertise, which charges the scene with pure adrenaline and explosive chaos. The scene where a name has to be confirmed in the US Embassy moves with the tensity of a ticking time bomb. The men constantly plan and scheme and try to protect their asses. There is some fun in watching them doing their best to always stay one step ahead of their rivals. However, the excitement wears off after a few episodes.

While Narco-Saints never actually becomes unwatchable, you still crave more twists and turns to enliven the material. The last episode, especially, could have benefitted from more cleverness (it lies somewhere between okay and bland). The predictable graph does not exactly justify six hours of our time. The show could have dug into other areas, like why did Kang's wife decide to become his wife (the handsome face line at the end is not a valid or believable explanation). Perhaps, if Narco-Saints had shown some interest in its female characters, we could have gotten a reason. The women merely wear skimpy clothes, stand in a corner, or act as mute spectators. Hence, you are confused when the one on the NIA team is congratulated. All she did was follow orders. Why not clap for Choi, for he seems to have done most of the work? There is a young girl who makes contact with Kang, but the show forgets about her soon after. Why not use her to up the stakes or something?

There comes a moment in Narco-Saints when we sense that Kang could get blinded by wealth. But even this gray area is left unexplored. The writers don't want to paint Kang as dubious. They want us to blindly trust him with our lives, as he would never side with the bad guys. All this could have been more acceptable if this were a 2-hour-long feature. Narco-Saints handles itself well and never becomes too complicated. It's good at whatever it does, but unfortunately, that isn't much in terms of a 6-hour-long production. Narco-Saints should have had more surprises.

Final Score – [5/10]
Reviewed by - Vikas Yadav
Follow @vikasonorous on Twitter