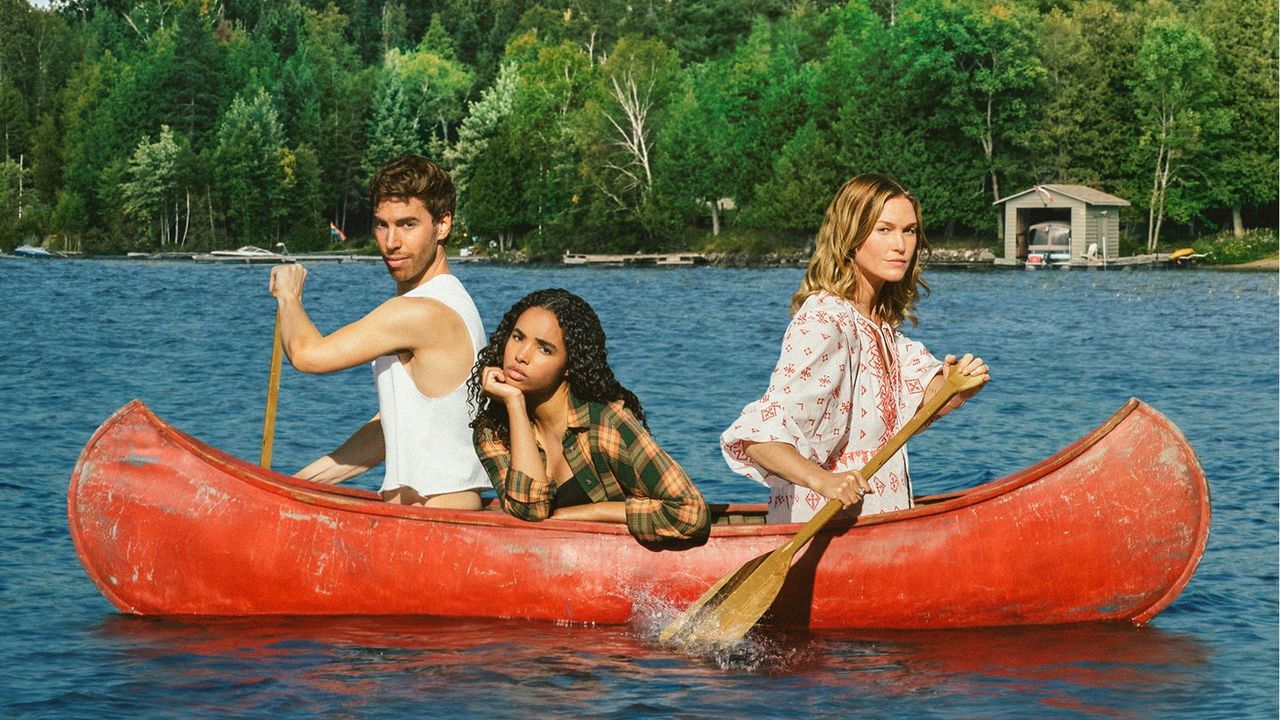 The Lake is a Canadian Prime Video Original series in which we see Jordan Gavaris and Julia Stiles playing the role of brother and stepsister. Julian Doucet has created the series, which is also the first Canadian Amazon Original.

Justin, a gay father gave up their daughter for adoption so that she could live in a better world while they were still exploring their sexuality. After getting back from Australia, they want to spend time with her so that they can bond. They call themselves the "Birth Father". Billy, their daughter cares about the environment very much. They have come to live in the lake house. Justin's father gave up the family cottage to his stepsister in his will. That doesn't go well with Justin, and they try every possible thing to gain it back.

I just loved the character of Justin (played by Jordan Gavaris). They are so carefree and have a great sense of humor. Justin is a really cool birth dad and even though they don't know much about parenting, but still manages to get close to their daughter and share a good bond. Justin is very much dedicated to Billy. Justin is really obsessed with their family cottage and wants to get back the honor of their family. Justin is sometimes too dramatic. The character of Justin is the one that can be watched endlessly.

Many references to the series like Mean Girls, Game of Thrones, and Lime Disease have been made. The character of Macy (played by Julia Stiles) has been designed keeping a strong woman in mind who doesn't give up on anything easily. Sometimes it feels like Billy is too much concerned about nature. It's like okay, we get it, she cares for the environment, and that's a good thing, but a repetitive mention of the same thing could have been avoided.

The humor is on point in the series. People can be seen living close to nature in harmony. It feels as if they are living in paradise. They don't have roads obviously as they live by the lake. So, whenever one needs to go from their house to a neighbor's, a boat is used for that. Imagine living in a place like that! There are plenty of questions that may come to the mind of the viewers. But you might end up thinking about whether Justin will get the ownership of their family cottage or not?

In the end, The Lake is just about the fight between a brother and sister with the motive of claiming their territory. In my opinion, The Lake is a good watch. There are no unnecessary twists and turns. It is a series that brings calm. Watching the view shown itself made me feel good. Do check this series out if you're willing to watch good and unnecessary drama-free shows. It is a light series which one can even enjoy with their family. There is a teen romance, typical brother-sister fights, nosy neighbors, and a little bit of politics.

Final Score – [7.5/10]
Reviewed by - Riya Singh
Follow @_riyasinghhh_ on Twitter
Note: All the eight episodes of the series are screened for this review.