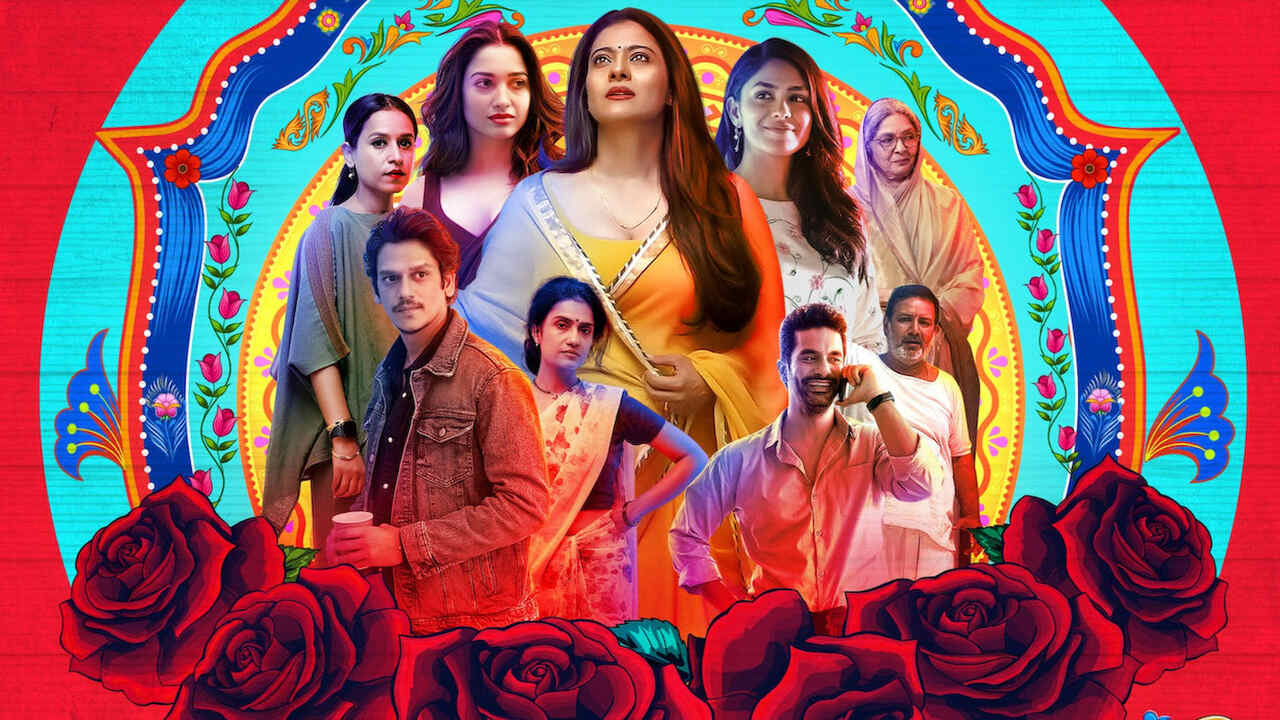 The first one is directed by R. Balki and is about a young couple who is going to be married. They have been talking to each other for three months and now their parents meet to fix the date for marriage. Veda's (played by Mrunal Thakur) grandmother is too bold to come up with her opinions about the same matter. She says that it doesn't matter if the horoscope proves that the couple is compatible as the real compatibility is in bed. Her line that "jab car lete hai tab bhi test drive karte hain toh shaadi se pehle kyu nhi" leaves you in awe. We don't consider the generation of our grandparents modern, and her saying these things leave the two families devastated. She is the sex educator that Veda never had. "Become addicted to each other..Sex is important for love" are some of the best lines.

The grandmother herself decorated the room for their wedding night and I wanted to see more of it. Neena Gupta aced this role and I don't think that anyone else could have done it better than her. There was more that they could have shown and the plot also felt to be incomplete. Many things happened too soon in this one still, the content shown was marvelous. Who would expect such an old woman to say something like these and the best part is all that felt relatable.

The second short film is directed by Konkana Sen Sharma which is about a servant and the master. Isheeta is a busy woman with no family of her own. One day she comes home early and finds out that her maid was having sex in her bedroom. The man was her husband, but still, this act wasn't a decent one. Instead of firing Seema (the maid), Isheeta starts coming home at that time when Seems is having sex with her husband. Watching them have sex, she also gets sexually aroused and touches herself. This is followed by her masturbating at night. Things start to get twisted when Seema realizes what Isheeta has been doing for so long and she also enjoys watching her having sex with her husband. When it is confrontation time all hell breaks loose. The best part about this story is how it brings out the sexual desires of single women, and Seema also didn't shy away from accepting that she likes being watched. This story is about bringing out your inner demons. This plot might feel awkward to some but the sexual tension is high.

The third short film is from Sujoy Ghosh which is about Vikay and Shaanti (played by Tamanna). This has the best plot, to be honest among the others shown in Lust Stories 2. You have to watch this one even if you skip the others. Vijay in this short film is obsessed with breasts and he even checks Shakti's bra size before hitting on her. Even the reason for the accident was the breasts of his lover.

The fourth series features Kajol and Kumud Mishra. It is directed by Amit Sharma and is about a drunkard man wanting sex with everyone. His wife's revenge doesn't end well. I felt that Kajol could have done much better, and she failed in some scenes.

Knowing that Lust Stories was nominated for Emmy Awards, the movie had high stakes as it had to be good to justify that nomination. After watching Lust Stories 2, I can say that the film is good and deserves a watch. The movie is divided into four parts which are directed by R. Balki, Konkona Sen Sharma, Sujoy Ghosh, and Amit Sharma. It is difficult to choose a favorite as all of them were great. However, still, if I had to choose one then it would be the third one by Sujoy Ghosh.

Final Score – [7.5/10]
Reviewed by - Riya Singh
Follow @_riyasinghhh_ on Twitter
Publisher at Midgard Times