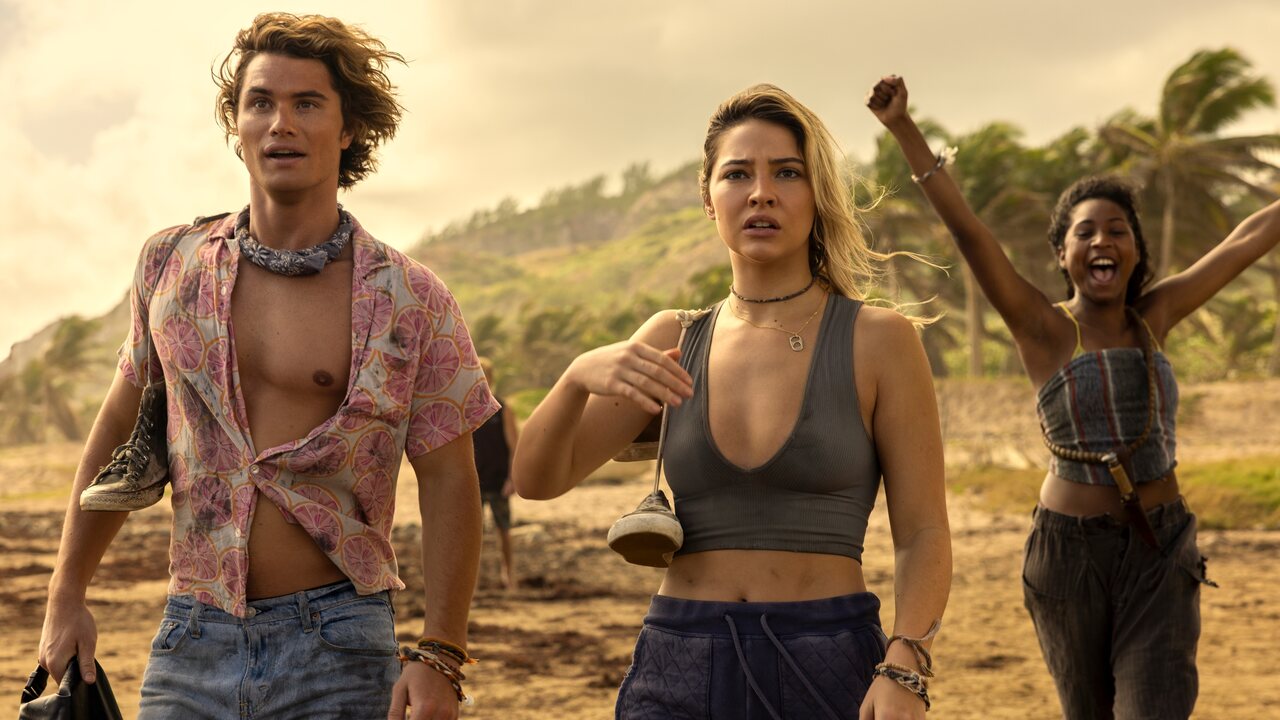 The Pogues are coming back sooner than expected as Netflix has officially revealed the premiere date and the first-look photos for the third season of Outer Banks. The 10-episode 'Outer Banks' Season 3 will release on February 23 on Netflix, worldwide.

Season 3 of Outer Banks finds this treasure-hunting pack settling in their gorgeous new home, Poguelandia. They have all they need, as the new poster (see below) shows a private island, a gorgeous sunset vista, and each other's companionship. How unsafe might things be with so much fishing and swimming? The Pogues realize that their adventures in the first two seasons were just a warm-up for the mother of all treasure hunts. Far from home, John B (Chase Stokes), Sarah (Madelyn Cline), Kiara (Madison Bailey), Pope (Jonathan Daviss), JJ (Rudy Pankow), and the newest Pogue member, Cleo (Carlacia Grant), are on the run for their survival. Ward and Rafe are out for vengeance, and a cruel Caribbean Don is after the bounty, so it's the Pogues versus the world.

At the end of Season 2, Rafe (Drew Starkey) recovers the Cross by shooting Pope, who leaps overboard with Cleo; they board the lifeboat, followed by Kiara and JJ, who regains consciousness; the Pogues depart, landing on a remote island in the Caribbean named "Poguelandia." The Sheriff's office is looking into their disappearance. Limbrey meets Big John (Charles Halford), who is still alive and promises to assist her provided she helps John B.

Below is the new 'Outer Banks' Season 3 poster revealed today by Netflix.

The first-look photos (see below) give us a glimpse into what the Pogues are up to in Poguelandia, and not all of it is paradise on these sunny beaches. The Pogues have gotten away with a lot of near-death encounters in the past, but can they survive this chapter and retrieve their gold?

Series creators Jonas Pate, Josh Pate, and Shannon Burke are the showrunners and executive producers of the third season of "Outer Banks." The coming-of-age series stars Chase Stokes, Madelyn Cline, Jonathan Daviss, Rudy Pankow, Madison Bailey, Carlacia Grant, Austin North, Drew Starkey, Deion Smith, and Charles Esten, all reprising their roles in season 3, and also Grant has been promoted to series regular. Andy McQueen as Singh will be a new face this season.