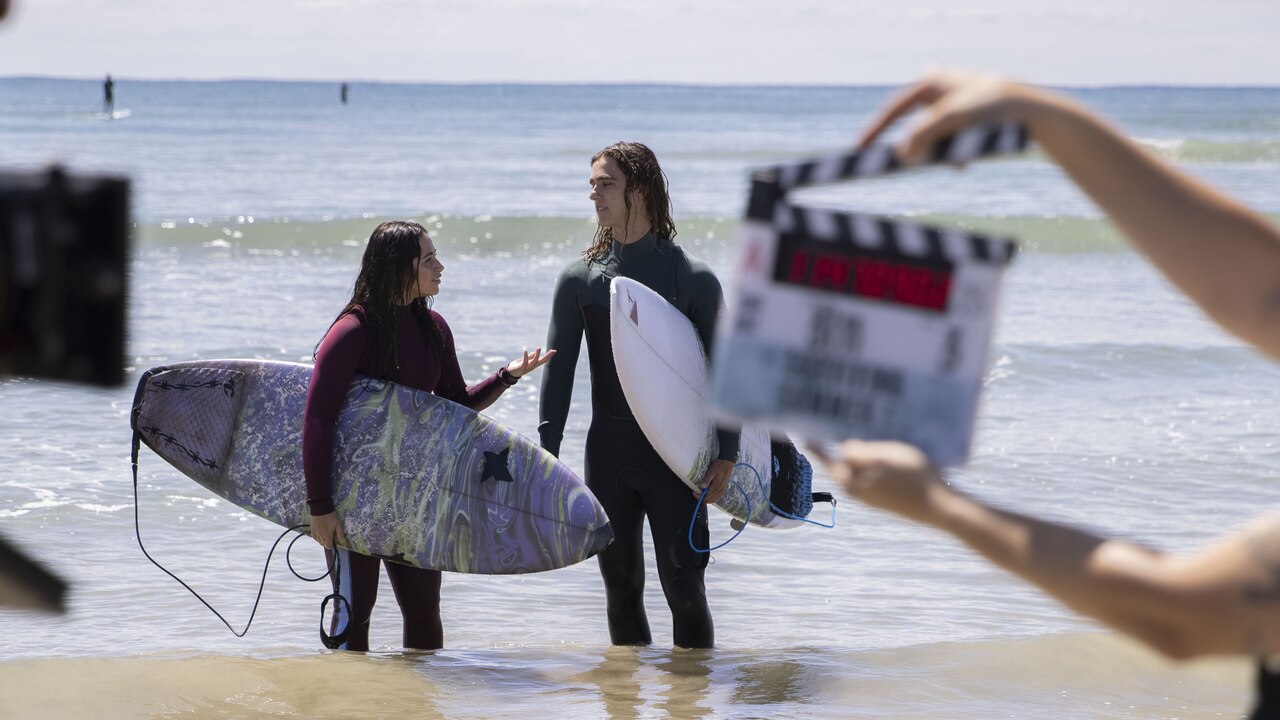 The hit international Netflix series Surviving Summer has officially begun filming its second season today (February 2) at the Great Ocean Road on Wadawurrung Country in Victoria.

Created by Joanna Werner and Josh Mapleston and produced by Werner Film Productions for ZDF Studios and Netflix, Season 2 of 'Surviving Summer' will follow Summer Torres as she returns to Shorehaven and impresses her Aussie friends with her newfound surfing abilities. She'll have to deal with rollercoaster romances, a mysterious new coach, and other obstacles as she pursues her surfing dream and a rival surfer determined to take her down. The second season will be again directed by Sian Davies, along with Christian Van Vuuren.

Season 2 sees the return of Sky Katz as Summer, João Gabriel Marinho as Marlon Sousa, Kai Lewins as Ari Gibson, Savannah La Rain as Bodhi Mercer, and reigning Open Women's Queensland Surf Champion Lilliana 'Lil' Bowrey as Poppy Tetanui. Joining the cast in this new season are Olympia Valance as Elo, Annabel Wolfe as Wren, and Josh MacQueen as Baxter.

"It's so rewarding to see audiences around the world embrace Australian storytelling," said Que Minh Luu, Director of Content, ANZ. "We're stoked to be back in the waters with Werner Productions to ride the next wave of this brilliant Aussie teen series."

"We were so thrilled with the response around the world to the debut season of Surviving Summer on Netflix and couldn't be more excited to be commencing shoot on the second season," Joanna Werner, Producer of Surviving Summer. "Our fabulous cast have just finished their intensive surf training camp and are ready to go, along with some exciting new cast members. We have a brilliant crew assembled on the Surf Coast and the sun is shining here in Anglesea - here's to a great shoot!"

"After the tremendous worldwide success of the first season, we are excited to see Surviving Summer now going into its second season," said Katharina Pietzsch, Director Junior ZDF Studios. "We congratulate our long-standing partners Joanna Werner and Netflix on this fantastic series and cannot wait to make it available to young audiences around the globe."

Following its release in June 2022, the first season accumulated over 20M hours of global viewing in its first two weeks and reached the top 10 shows in over 42 countries worldwide on Netflix, including Australia, the United States, Canada, the United Kingdom, Brazil, and countries throughout Europe, Africa, and Asia. Fans engaged across social platforms, with #survivingsummer amassing over 52.4 million mentions on TikTok.

Vic Screen provided production support for the series. The first season was released on June 3, 2022, and it was renewed for the second season in November 2022. Read our 'Surviving Summer' Season 1 Review.