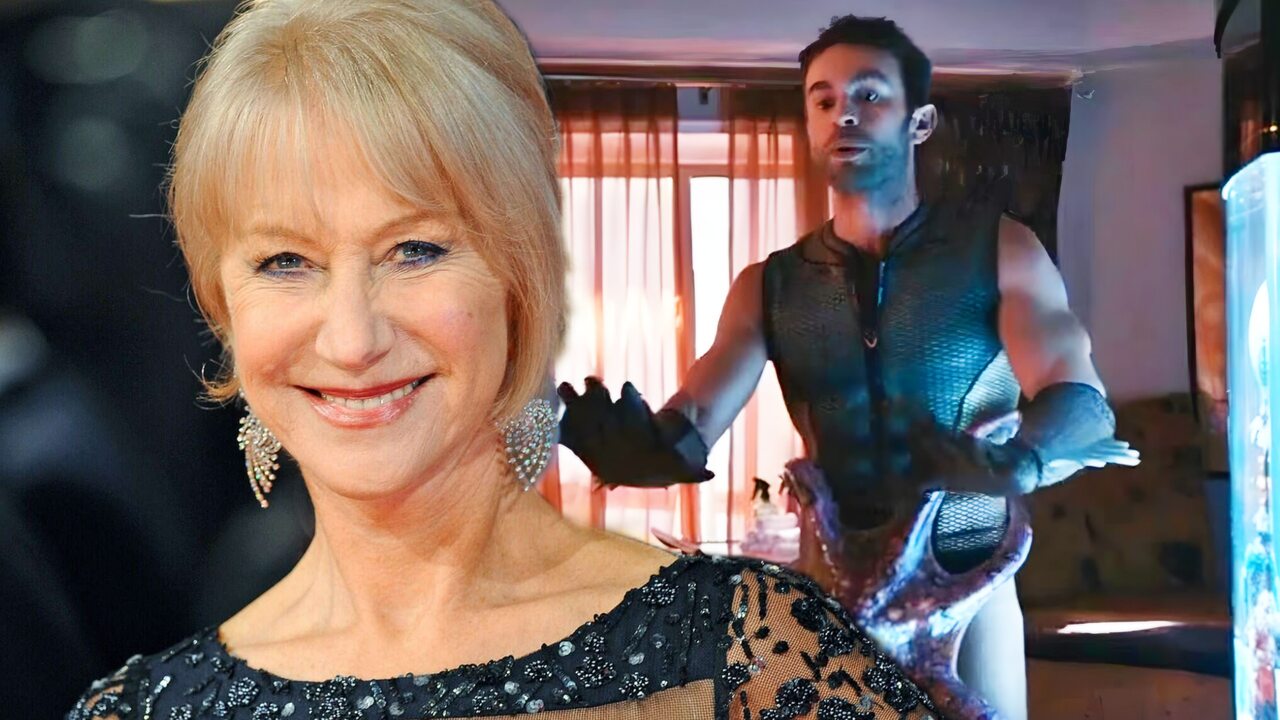 The third season of The Boys has a very surprising cameo, and we revealed the same more than three months before its premiere. Last time it was Charlize Theron, who played Stormfront as a cameo, and now it's Oscar Winner Helen Mirren.

As if it wasn't already weird enough to see Chase Crawford's The Deep eating his Octopus Timothy, Season 4 might take the story to a whole new level. In the Herogasm episode of The Boys Season 3, The Deep was caught having sex with his new Octopus, Ambrosia, and now I am hearing that Ambrosia will be voiced by none other than Oscar winner Helen Mirren in The Boys Season 4, which is currently in post-production stage.

I am not sure how to react to this, but it will be certainly weird to hear an Octopus talk in the voice of Helen Mirren, especially when it gets into some awkward and intimate position with The Deep. The awkward scene between Deep and Octopus Ambrosia became one of the biggest highlights of the Herogasm episode, even though the whole episode was at the next level of hilarious and weirdness.

Helen Mirren is very active these days, she recently appeared in Shazam! Fury of the Gods where she played the Greek goddess Hespera. She is a regular in the Fast and Furious saga and she will reprise her role of Queenie in the upcoming Fast X, which is hitting the theaters on May 19, 2023. Mirren will also be narrating Greta Gerwig's Barbie, coming to theaters this July, and she will lead "White Bird" as Grandmère, which will release in August. Mirren is known for her role in "The Queen" for which she won an Oscar for Best Performance by an Actress in a Leading Role.

The Boys Season 4 has already completed filming and post-production is in progress, which will take at least 7-8 months to finish. Meanwhile, all the episode names for Season 4 have been revealed, all credits go to the Insta account VoughtHQ.

EPISODE 01: DEPARTMENT OF DIRTY TRICKS
EPISODE 02: LIFE AMONG THE SEPTICS
EPISODE 03: WELL KEEP THE RED FLAG FLYING HERE
EPISODE 04: WISDOM OF THE AGES
EPISODE 05: BEWARE OF THE JABBERWOCK, MY SON
EPISODE 06: DIRTY BUSINESS
EPISODE 07: THE INSIDER
EPISODE 08: ASSASSINATION RUN

The Boys Season 4 will pick up a few months after the third season, with Annie January aka Starlight (Erin Moriarty) working with the Boys as she adapts to making a difference without her superhero alter-ego. Hughie (Jack Quaid) will have some family drama as his mother reappears in his life, but could this impact his relationship with Annie to progress? It seems right that Marvin Milk, aka MM or Mother's Milk, would take the role of leader for the boys while Frenchie and Kimiko explore other relationships. The penultimate season is set to focus on the Boys instead of the superheroes.

Season 4 has also added Jeffrey Dean Morgan to the cast in an undisclosed role, Valorie Curry as Firecracker, who will be very close to Homelander, Susan Heyward as Sister Sage, Derek Wilson as Tek Knight, Rob Benedict, Rosemarie DeWitt, Alison Deon as Dr. Sarah Petrie, Elliot Knight, and Jesse Goldman. Season 4 also promoted Cameron Crovetti, who plays Homelander's son Ryan to a series regular, confirming that he has a much bigger role to play this season. The returning cast includes Karl Urban, Jack Quaid, Antony Starr, Jessie T. Usher, Laz Alonso, Erin Moriarty, Chace Crawford, Tomer Capone, Colby Minifie, Karen Fukuhara, and Claudia Doumit.